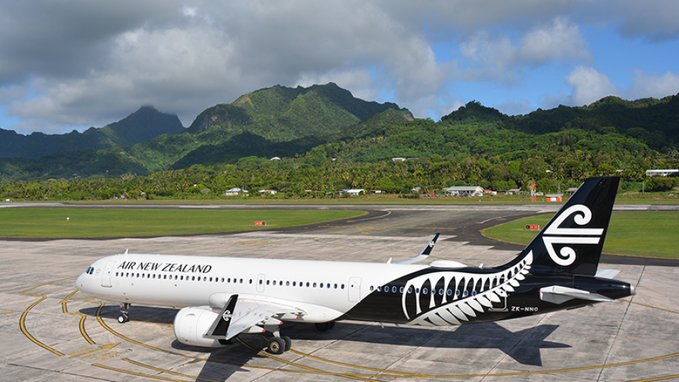 Border restrictions to the Cook Islands have been extended until November.
A statement from Prime Minister Mark Brown's office late Tuesday afternoon said Cook Islands will further extend its travel advisory restricting inward arrivals to the nation until 11.59pm on Thursday 04 November 2021.
Hi announcement came after it was revealed there were 45 new cases in Delta community outbreak in New Zealand on Tuesday – the highest number in three weeks.
"Today's cabinet decision to extend the current travel advisory from 27 September until 04 November was based on the advice of the Ministry of Foreign Affairs and Immigration (MFAI) and Te Marae Ora Ministry of Health (TMO)," Brown said.
"Both ministries advised that with the return of the stranded Cook Islanders from New Zealand scheduled for next month, the highest possible precautions should continue to be taken."
Extending the travel advisory until 04 November would mean that those returning to the Cook Islands on the second repatriation flight would have cleared managed isolation quarantine seven days prior, on Thursday 28 October, Brown said.
It would allow "invaluable" time for the Border Easement Taskforce and cabinet to reassess whether settings had been met for the safe resumption of regular inwards travel, and to "pivot staffing and other officials towards this resumption if determined safe to do so at that point", Brown added.
Meanwhile,there is fear among Cook Islands parents and caregivers as the day for youth vaccinations looms.
The National Auditorium echoed with voices of dissent as the first of several consultation meetings was hosted by Te Marae Ora late Monday.
New Zealand is providing the vaccines and has bought enough supplies of the Pfizer vaccine to cover its own population as well as 12 to 15 year olds in the Cook Islands, Niue and Tokelau; known as 'the Realm Countries'.
Secretary of Health Bob Williams, director of hospital health services Dr Yin Yin May and paediatric registrar Dr Donna Mokoroa fronted as members of the public questioned the validity of the vaccine rollout and made claims it could contribute to harmful long term health effects.
It is estimated there are just over 1200 young people in the 12 to 15 years age range in the Cook Islands.
Williams told Cook Islands News the vaccine is expected to arrive next week and Te Marae Ora will start vaccinating on Friday 08 October.
A parent of three 12-year-old children told Dr May she had concerns about the long term effects of vaccination.
She asked Dr May if there was accredited proof of the long term effects.
Dr May said she could provide evidence, there had been studies, and there were no long term effects.
Another parent said she was concerned about the reported adverse effects of the vaccine.
"We need fully informed consent which I don't think is being provided."
She claimed it contributed to menstrual disorders and that studies had shown it did not breakdown in the body.
"There is no long term safety, how do we know about long term effects, we need long term studies.
"I think all parents should have all the facts."
A fact sheet handed to attendees by Te Marae Ora stated a parent of caregiver's consent together with the child's consent is preferable, if the child is competent to consent.
Vaccination is not compulsory in the Cook Islands "but the world is changing, and vaccination may well become a need for travelling or school environment", the document said.
Williams told those gathered there may be a time when Cook Islands has to live with Covid-19.
Another audience member asked what public health measures would need to be put in place to take care of Covid-19.
"It means you can be forced to vaccinate your children, you can be imprisoned."
Williams said that was not the case . . . "We have said it is voluntary, we are not directing anyone to get their children vaccinated."
Another audience member stood and said; "This is not a vaccination, it is an experimental jab, any danger is on your heads."
Williams responded; "There are no other people that know more about your health than these doctors."
The meeting continued with multiple claims the vaccination programme was irresponsible, unnecessary, not future proofed and not affective against the Delta variant.
Following the meeting, Williams told Cook Islands News; "We did expect the kind of questions we got as some have already raised their concerns on social media."
Questions and comments were well noted and taken on board, he added.
"Some people came already knowing that they will not support the vaccination but it is encouraged that people look at what's happening globally with Covid-19.
"We are Covid-19 free but the future may not be same for the Cook Islands, so it is important for us to take that into consideration in our decision making; the evidence from other countries experience is that the benefit of vaccination reduces the risk of being hospitalised for Covid-19."
More meetings are scheduled for Tereora College at 4.30pm today and Thursday at Titikaveka College from 5pm.
"We also have next week for another opportunity for other schools if they still want another session before Friday 08 October ," Williams said.
SOURCE: COOK ISLANDS NEWS/PACNEWS