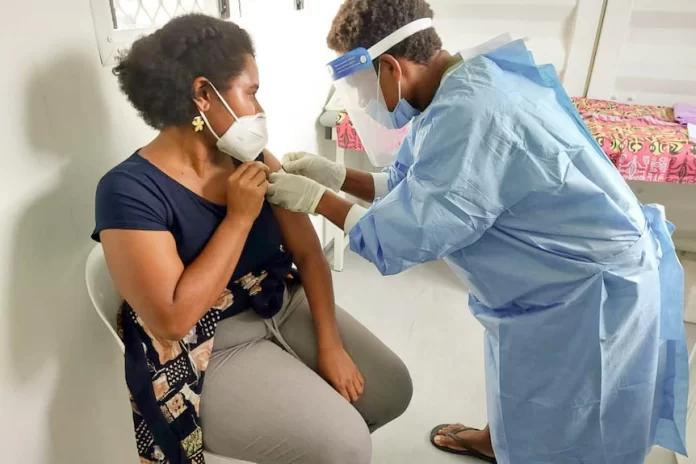 A new term has come into play in Papua New Guinea, not vaccine hesitancy, but vaccine apathy, coined by the man leading the country's COVID-19 vaccination taskforce.
Api Kassman said the problem his team are wrestling with is that many people don't want be vaccinated, not because they are reluctant or afraid, but because they don't believe it's even necessary.
PNG has the lowest vaccination rates in the world right now, and there is acknowledgement that the country is at risk of global isolation.
The vaccination picture is so dire, that one forecast predicts that at current rates by 2026 only 20 percent of the population will be immunised against the coronavirus.
And just to emphasis the point on low take up, Kassman said they have just handed over 30 thousand doses of Astra Zeneca to Vietnam, rather than let them go to waste.
"Those vaccines were expiring on the 30th of September. Yes, it does display a certain strain of hesitancy, but we also believe that it's vaccine apathy that's our problem," Kassman told Pacific Beat.
"There is a real sentiment amongst people that COVID is not real. And if it does come, it goes without really being life threatening. So that's not hesitance, they don't believe that COVID can affect them."
It's a view supported by the Catholic Bishop of Mendi, Donald Lippert, who said Highlands people are just not convinced by the COVID threat.
"The people have felt that it really isn't here. On the other hand, there isn't any massive testing program, and so whether it's here or not, who would know? But it seems like it is not causing vast illnesses or people getting sick or people dying or hospitals being overrun in some of the provinces here in PNG."
The vaccination taskforce has linked up with the mainline churches in an effort to counter the wave of misinformation and false beliefs being spread on social media, and by religious fringe groups.
"A lot of people out in the country areas are saying, I'm protected by the blood of Jesus, but the churches are saying to receive the vaccine is a blessing, and to understand that it's people who have been blessed with knowledge that have developed this vaccine, and that we should use it widely," Kassman said.
Kingtau Mambon who teaches economics at the University of Papua New Guinea is the co-author of a recent blog on vaccination rates in PNG prior to the pandemic, and the evidence suggests that even after the polio scare of 2019, the picture was not good, and the government's own spending cuts didn't help.
"The real collapse in vaccination rates was between 2013 and 2017. And it was during this period when the government revenue falls and health spending was cut by nine percent….health services were no longer the priority," he said.
"It really affected the people at the forefront of our health operations generally….and we really were hamstrung from the start because when clinics are shutting, when people don't have job security, it just makes the job so much harder," Kassman told Pacific Beat.
And there is a stark warning that if vaccination rates don't rise quickly and significantly, then PNG risks becoming a pariah state when international borders open up again.
"If PNG continues to self punish with these low vaccination rates, in the long run it will isolate itself from its neighbours," Kingtau Mambon said.
"We need to achieve a certain level of vaccination for our country to be deemed safe to do business in, and obviously that's the priority. We are concerned about being isolated, but at some point, we really have to try and shift the mindset of our people," said Kassman.
"We've got to be more aggressive in our approach to get people on board with vaccination," he said.
SOURCE: ABC/PACNEWS