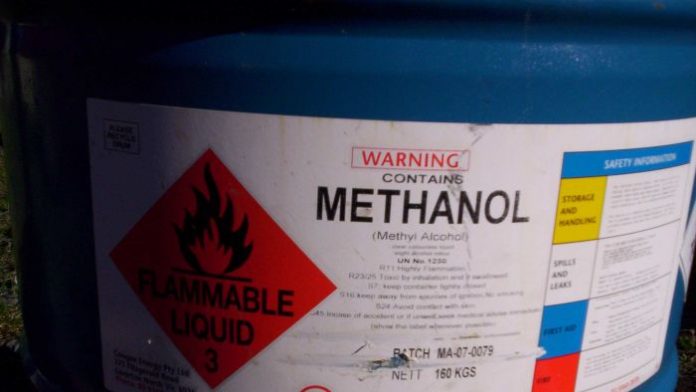 A senior PNG health official says twelve people have died and more than a hundred are seriously ill after villagers in PNG's Eastern Highlands consumed stolen methanol.
CEO of the Kainantu rural hospital Dr Enename Susuke said five drums of methanol were stolen from an agricultural research facility last Thursday.
"A few people broke into a storage room and stole five 44 gallon drums of methanol."
The chemical was then drunk by potentially hundreds of people in three villages in the Aiyura valley over the weekend
"They thought it was alcohol and everybody drank it at the weekend… so Friday, Saturday and Sunday, and we started to see the casualties on Monday."
Dr Susuke said hospital has been swamped by people sick with methanol poisoning.
"100 to 200 people, so we have had 12 deaths."
"We can't keep the whole lot of them … because our bed space are not enough to keep all those people."
"So those ones we think are stable are sending home," he said.
The hospital is preparing for more people to get sick, because of the volume of methanol that was stolen.
"We will have another lot of people coming … because five 44 gallon drums of methanol more than 1000 litres is loose somewhere." Dr Susuke said.
"I have sent in district health officers to the affected areas … even the police have been called in to stop people from drinking."
He's worried that PNG's independence day celebrations, that start tomorrow, could make the situation worse.
"Now that alcohol is on the loose and people are drinking it, making the situation worse this is independence for PNG, and we will be celebrating tomorrow."
"People will be drinking, and trying to celebrate, this will be a disaster for us."
"This is exactly why I am sending out this message to try to stop people taking anymore," Dr Susuke said.
SOURCE: ABC/PACNEWS