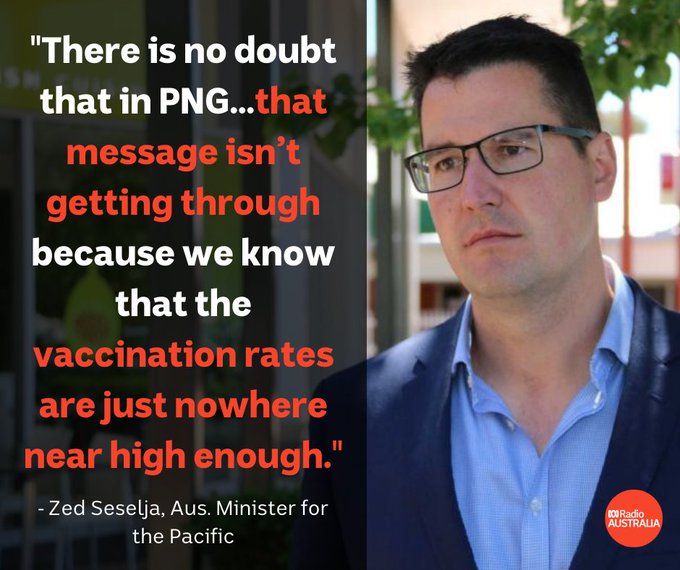 Australia's Minister for the Pacific, Zed Seselja, recently declared that "until everyone is safe from COVID, no one is safe".
But it's an objective that looks a long way off, given countries like Australia's nearest neighbour, Papua New Guinea, have some of the world's lowest vaccination rates.
Australia has donated hundreds of thousands of vaccines to its Pacific neighbours.
But PNG's most recent figures (from 22 August) show that just over 99,000 people have had at least one COVID-19 vaccine, which is around two percent of the eligible adult population.
Minister Seselja was one of several Australian Ministers to speak with their PNG counterparts in an annual meeting and he said the matter was discussed.
"The reality is we are doing much more than just providing doses and we certainly discussed how we can do that in the most effective way possible," Minister Seselja told Pacific Beat.
"We've also been helping to fund and partner with Churches, with sporting organisations, with NGOs, with other community leaders, to be getting the message out about the need for vaccinations."
"There is no doubt that in PNG, in many places that message isn't getting through because we know that the vaccination rates are just nowhere near high enough," he said.
But he said lessons could be learnt from the experience in the Treaty villages, which are on the border between PNG and Australia, where rates are much higher.
Minister Seselja pointed to the success of Fiji's vaccination programme, where more than 50 percent are now fully vaccinated.
The Fiji government has said it plans to reopen its international border as early as November, and the Australian airline Qantas, has added flights to its schedule, starting in December.
But Minister Seselja wouldn't be drawn on whether Australians would be allowed to travel to Fiji by then.
"I'm hopeful we can get there as soon as possible, exactly when that date is, whether it's before the end of the year or not, remains to be seen," the Minister said.
"But it's certainly something worth striving for…our vaccination rates [in Australia] need to continue going up and we're seeing great progress on that," he said.
Meanwhile, there was sharp criticism to news last month that Australia will offer dedicated farm work visas to people from South-East Asian countries, with claims it would pose a "direct threat" to Pacific labour programmes.
But Minister Seselja said "there's not going to be some cheap shortcut for anyone…what we will continue to do is prioritise our Pacific labour schemes because they are important to Australia and they are important to our Pacific family".
Australia's Agriculture Minister David Littleproud has suggested the new agriculture visa could provide a pathway to Australian permanent residency, which has never been an option for those on the Pacific labour programmes.
Minister Seselja told Pacific Beat that the government remains "open to those sort of possibilities" but that it was a matter that needed to be worked through with immigration officials.
He confirmed that the government will soon announce changes to the two labour programmes after a review was completed earlier this year.
"We're combining our schemes…and will shortly be announcing some improvements and some streamlining of those schemes," he said.
SOURCE: ABC/PACNEWS