By Pita Ligaiula in Glasgow
"To all leaders here; the message of the Pacific is simple: Our canoe is sinking. "Pick up your buckets and start bailing now before it's too late."
That simple message of canoe voyaging and the urgency to bail water was Frank Bainimarama's message to world leaders that are currently in Glasgow, Scotland this week for COP26.
As Prime Minister of Fiji and current chair of the Pacific Islands Forum, Bainimarama used his two-minutes speaking slot at the world leaders summit in COP26 that was chaired by host Prime Minister Boris Johnson to share a Fijian seafaring proverb with his counterparts in the room, that also included among others, President Joe Biden of the United States, Narendra Modi of India, Angela Merkel of Germany and Scott Morrison of Australia.
He uses the analogy of a global 'gap-filled' canoe that is heading for storms, while seawater pours aboard:
"gaps in ambition, gaps in climate finance, and gaps in emissions reduction commitments."
"It brings to mind an ancient adage – one I've since added to Fiji's call to action: "Tu Na Inima Luvu Na Waqa," which means quite literally, "the boat sinks despite the presence of the bailers."
"Island nations like Fiji have teaspoons with which to bail water.
"The G20 nations have buckets.
"Yet too many are willfully ignoring the storms on the horizon and the holes in our canoe.
"They must cut emissions – now – to set our canoe towards the calm of carbon-neutral seas and they need to start bailing – now – by meeting their climate finance pledges before our canoe sinks to the seabed."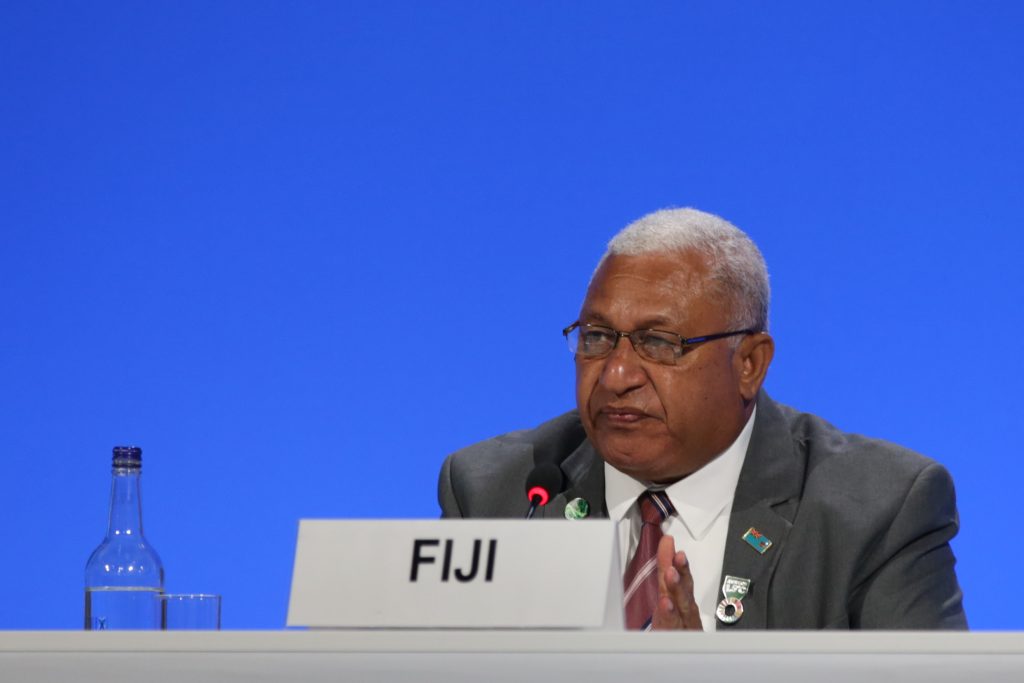 Bainimarama said the new US$100 billion goal by 2023 for the new climate finance delivery plan is welcomed, yet not lost on countries like Fiji were the fallen billions short of pledges of the past.
More so, SIDS have only been able to access a mere 2 per cent of the available finance, mostly delivered as loans – forcing small island states to pay high interest rates to address climate-driven impacts they did not cause in the first place.
"Wealthy nations must do more than pledge finance, they must make it affordable and accessible, and they must actually ensure that it reaches the communities it's meant to aid –– for mitigation, but mainly for adaptation purposes.
"And by 2025, much higher levels of commitment will be required –– 750 billion dollars annually in climate finance, ten percent of which is dedicated to SIDS, as well as a dedicated mechanism for the losses and damages we have already sustained.
"Wealthy nations spend trillions on defence partnerships and on weapons that can level entire communities, surely we can spend billions to adapt them.
"How do we ensure that this is not yet another empty ask? "We can start by meeting the 2023 commitment.
"Another way would be to finalise Article 6, price carbon, and ensure emitters pay to adapt the communities they are devastating.
Bainimarama is heading Fiji and the Pacific Islands Forum delegation to COP26 and earlier today participated in a forum that saw the launch of the Initiative for Resilient Island States (IRIS) by the Coalition of Developing Resilient Infrastructure led by India's Prime Minister Narendra Modi.
Among other leaders that spoke at the launch were Prime Minister Boris Johnson of Britain and Scott Morrison of Australia.
SOURCE: PACNEWS