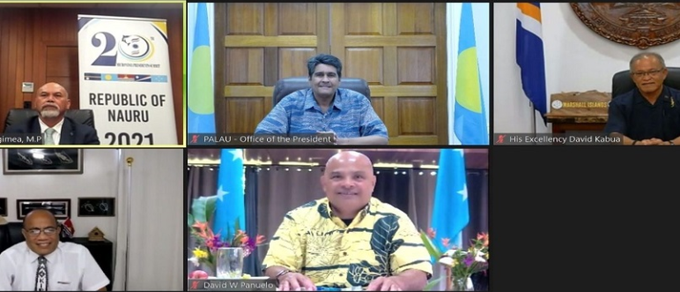 Nauru is looking to host a Micronesia Presidents' Summit Secretariat with leaders of Nauru, Palau, Federated States of Micronesia (FSM), Republic of the Marshall Islands (RMI), and Kiribati putting in motion efforts to formalise the legal status of the new Secretariat.
In the 20th Micronesian Presidents' Summit communique signed by the five presidents – President of Kiribati, Taneti Maamau; President of FSM David Panuelo; President of RMI, David Kabua, President of Palau, Surangel Whipps Jr, and Nauru President Lionel Aingimea, the establishment of the Secretariat have been discussed, along with other range of issues from climate change, COVID-19 pandemic, trade, transitional crime and security.
"Presidents acknowledged the importance of positioning the Micronesian subregion at the international level," the communique stated.
In February, the Micronesian leaders have announced that it is quitting the Pacific Islands Forum (PIF) after the selection of the forum secretariat's Secretary-General Henry Puna.
The leaders claimed that due to an unwritten agreement, it was the sub-region's turn to provide the next SG.
While there is an ongoing discussion among the leaders regarding the rift, the leaders during the meeting said Micronesia is still leaving the forum.
The leaders, in the communique also reaffirmed their endorsement of the Declaration on Preserving Maritime Zones in the face of Climate Change-related sea-level rise
In August, leaders of Pacific island countries have agreed to establish permanent maritime boundaries, notwithstanding climate-change-related sea rise.
"We proclaim that our maritime zones, as established and notified to the Secretary-General of the United Nations in accordance with the Convention, and the rights and entitlements that flow from them, shall continue to apply, without reduction, notwithstanding any physical changes connected to climate change-related sea-rise," reads the declaration. "We do not intend to review and update the baselines and outer limits of our maritime zones as a consequence of climate change,' the declaration stated.
In the communique, it was also announced that FSM will host the 21st MPS. The date of the next MPS is yet to be determined.
SOURCE: ISLAND TIMES/PACNEWS