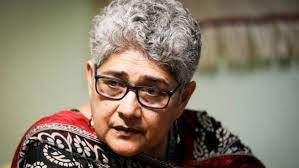 -The United Nations has come under fire from a leading human rights advocate in Fiji for evacuating one of its Covid-positive workers for treatment to New Zealand last week.
A United Nations Development Programme (UNDP) worker in Fiji with Covid-19 was medically evacuated to New Zealand on an air ambulance jet on Thursday, and was taken to Middlemore Hospital for treatment.
Shamima Ali, co-ordinator of the Fiji Women's Crisis Centre, told Radio Tarana in an interview that it was "unfair" that a UN worker could get treatment overseas while "our own people are dying".
"This virus has really shown us that it is the privileged who matter, and the poor and underprivileged don't," Ali said.
"And the UN is a very privileged community, it is very unfair; when you choose to work in a country, you take everything with it."
Ali said she believed it was time to talk about this issue, and also why more locals were not being employed by the UN.
"It is very, very unfair that our own people are dying here because of a lack of services, and they can't get to services on time, and our Ministry of Health is so stretched.
"I believe it is not fair at all, we need to talk about this," Ali said.
"This also brings into mind the fact that we do not employ local people in the UN; they still hold a lot of jobs that local people can, and they are privileged to work from home wherever they are living."
Ali said locals were denied UN jobs while others had the privileged of working from anywhere in the world.
"They can work from America, they can work from Europe and wherever and yet deny people here the job that they could do – all these things we never talk about because it is the UN.
"This is a case in point that our people are dying, but the privileges are there, and they can be taken to any member country of the UN and be evacuated," Ali said.
"My heart goes out to anyone who has Covid, all our sympathies with them, but I just think it's a good time to talk about the privileged and the underprivileged."
Ali said the UN needed to demonstrate the very values they advocated throughout the world.
"If we talk about human rights that the UN is so strong on, holding everyone accountable, talking about rights of people, creating a level playing field for everyone, then this is where it should be demonstrated."
In an earlier Stuff report, the UN's Resident Co-ordinator for Fiji, Sanaka Samarasinha, said on Friday that the woman was in "quite a critical stage" and was given no preferential treatment when a decision was made for the medical evacuation.
Samarasinha said medical evacuations were always a "risky business" and while the woman had received the best possible care in Fiji, a clinical decision was made after consultation with UN doctors, New Zealand doctors and the Air Ambulance.
Prime Minister Jacinda Ardern, in an interview with Radio Tarana, said it was a clinical decision and ruled out any political interference.
The incident has created much political debate in New Zealand with opposition MPs questioning "political interference" in the matter.
National Party leader Judith Collins said government officials should "absolutely" not have made a decision to allow the UNDP worker into the country for critical medical care.
And she has questioned former Prime Minister Helen Clark's involvement in the matter. Foreign Minister Nanaia Mahuta has confirmed she spoke with Clark about the woman, and other Cabinet ministers may have also.
"We are very concerned about this, and particularly around whether or not the political decision has overruled the clinicians," Collins said.
SOURCE: STUFF NZ/PACNEWS