By Makereta Komai, PACNEWS Editor in Tokyo
Kiribati's lone female judoka raised her island nation's flag at the Tokyo 2020 Games for a brief 0.52 seconds in the women's 70kg class Wednesday after a strong fight from an experienced Australian opponent, Aoife Coughlan.
27-year-old Kinaua Biribo will use her Olympic experience to inspire other young people and young women in in the Pacific island nation to dream big and represent Kiribati on the international stage.
"Training is tough, which I expected, and every day is a learning opportunity. Most participants [at her training base in Japan] are very talented, knowledgeable, and experienced; whilst I am a beginner coming from a small island. I am so proud to represent Kiribati on the international stage.'
Her UK based coach, Michael Liptrot trained her remotely via video call sessions because of the global COVID19 travel restrictions.
"We had a game plan knowing her experience and the fact that she is new to the sport. We trained with her Australian opponent and knew what to expect. But she was more experienced and had a higher ranking, said coach Liptrot.
He's confident the Olympics will be a stepping stone for bigger things for the Kiribati judoka.
"She has an amazing Olympic story of struggle to get there. Kinaua is a super strong woman. She has been away from home for almost two years and struggled through her qualifications.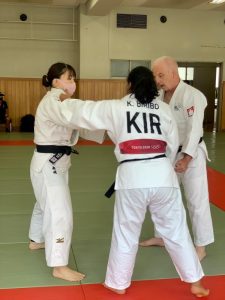 Coach Liptrot admires her determination and sacrifice to earn qualification to be in Tokyo for the Olympics
"She continued to train for the whole year and went to Russia and Budapest for her qualifications. And stayed there for almost a month helped by the International Judo Federation.
"During her stay in Europe, she had to be innovative to push herself to train because she was on her own. One time she used her suitcase and filled it heavy books to lift every to keep herself fit.
Biribo said keeping to her training schedule was a way of keeping herself busy and not miss her families back in Kiribati.
"I have a simple message for the young people of Kiribati – you can dream big and reach the Olympics. I encourage young girls and women to take up the sport of judo. It helps discipline the mind and keeps the body healthy, Biribo told PACNEWS here in Tokyo.
She first became involved in judo in 2019 having previously wrestled. She made her international debut at the 2021 Grand Slam event in Kazan, Russian Federation.
This is the first Olympic Games that emphasised gender equality in athlete's representation and participation.
At the Olympic Games Tokyo 2020, almost 49 per cent of the athletes participating will be women. Tokyo 2020 will be the first gender-balanced Games in history.
According to IOC, there will be a ground-breaking competition schedule. ensuring equal visibility between women's and men's events and featuring nine more mixed events than at Rio 2016, raising the overall number to 18.
For the first time ever, all 206 National Olympic Committees (NOCs) should have at least one female and one male athlete in their respective Olympic teams.
SOURCE: PACNEWS