By Makereta Komai, PACNEWS Editor in Tokyo
Three Oceania judokas competing in the men's 81kg category look set to improve their world ranking after competing at the Summer Olympics here in Tokyo Tuesday.
According to the result summary released after the medals were awarded, Samoa's Peniamina Percival and Hugo Cumbo of Vanuatu were placed 17th equal with 15 others while Guam's Andrew Joshter is in 33rd position with three others from Round 64.
Percival of Samoa lost to the world's number 5 from Netherlands, Ned de Wit Frank in a contest time of 1.09 minutes while Cumbo of Vanuatu went down to the seventh best ranked judoka in the world from Uzbekistan, Sharoffidin Boltaboev in a contest time of 1.21 minutes.
Guam's Andrew Joshter lost to Akmal Murodov of Tajikstan who is ranked 53rd in the world.
Before the Olympics, the International Judo Federation ranked Guam's Joshter at 119th place, Percival of Samoa at 217 and Vanuatu's Cumbo at 228th position.
Speaking to PACNEWS after his competition, 25-year old Cumbo said he had 'goosebumps' recounting his experience on the mat competing against one of the world's top judokas in the 81kg category.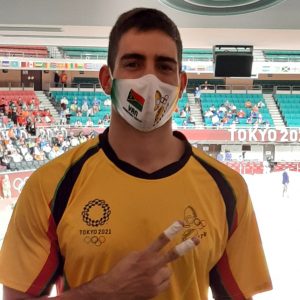 "It was a proud moment for me representing my country Vanuatu. I lost to a tough opponent who was in the top seven in the world. I made some mistakes but the way I lost was not a straight hit, he didn't throw me or I did not fall directly. It was my throw and he immobilised me. I got out of the first round and he kept going. The moment I got up, the referee had stopped the fight, said Cumbo.
Cumbo is excited about the prospects of judo taking off in Vanuatu. However, more needs to be invested in the infrastructure and equipment to ensure Vanuatu continues to be represented in this sport in future Olympic Games.
"There's a need for mats, judo kimonos and an experience coach to implement a pathway needed for the sport to grow in Vanuatu. We don't have many black belt coaches to train us, so our preparations are limited.
Cumbo is eyeing the Commonwealth Games in Birmingham next year.
"I want to continue to train for other big competitions. My next target will be the Commonwealth Games. For the next Olympics in Paris in 2024, I don't know. The federation gave me the opportunity for this Olympics and it was agreed not to give one competitor several Olympics but to share with other upcoming ni-Vanuatu but If there is nobody trying to qualify, I will try to qualify again, Cumbo told PACNEWS.
SOURCE: PACNEWS