By Makereta Komai, PACNEWS Editor in Tokyo
if there is one take-away from Fiji's successful defence of its Olympic gold medal in sevens rugby – it's the potential that athletes in Fiji can be trained and groomed to become Olympians.
That's the reflection of Fiji Association of National Olympic President (FASANOC) President, Makarita Lenoa after Fiji beat New Zealand 27-12 in the men's sevens rugby Wednesday at the Tokyo Stadium.
"Fiji has the potential to win medals at the Olympics if adequate resources are channelled to sporting bodies to support the growth and development of these athletes.
"The boys have shown that if resources are there to support athletes in every sport, I'm sure we can get more than one gold at the Olympics, said Lenoa.
In Fiji's case, there were funding support from the Government of Fiji and the International Olympic Committee (IOC)'s Solidarity fund to help prepare athletes qualified for the Olympics.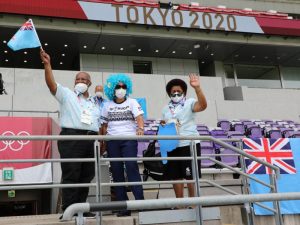 Lenoa echoed the men's sevens team dedication of their win to people back home suffering from the COVID pandemic.
"This is a win to all those who are working in the frontline to combat the COVID pandemic back home. It's not only for the team and their families but for the whole of Fiji.
Fiji's women sevens team started its medal campaign at the Tokyo 2020 Olympic Thursday with a win and a loss in their pool game. Fiji lost to France 12-5 in the opening match but stepped up to beat Canada 26-12 in the second match. Its last game will be against Brazil.
Captain Rusila Nagasau revealed that, like the men's side who won gold on Wednesday, 'Fijiana' had been locked down to train away from their families since early in the year.
"It is five, six months without seeing my family, not even saying goodbye to them," Nagasau said.
"Going back to them with a gold medal is a big aim for us."
With Fiji and Canada on four points apiece, two behind France, it is likely the pool will produce three
quarterfinalists.
Before leaving Japan, Fiji men's sevens coach, Gareth Baber had a message for the Fijiana team.
"I know one of their strapline is 'try and stop us' and that is fantastic. I want to see people try and stop you."
The gold medal win by the men's team should inspire the women's team to do better and win a medal.
"They are a great bunch of rugby players. We spent a lot of time together here in Japan and Australia as well. They are well coached and have good staff around them. They just have to put themselves out there. When you get to the Olympics, surely there will be a little nervousness but as you saw with us, we worked around that and saved our best for last, said Baber.
SOURCE: PACNEWS