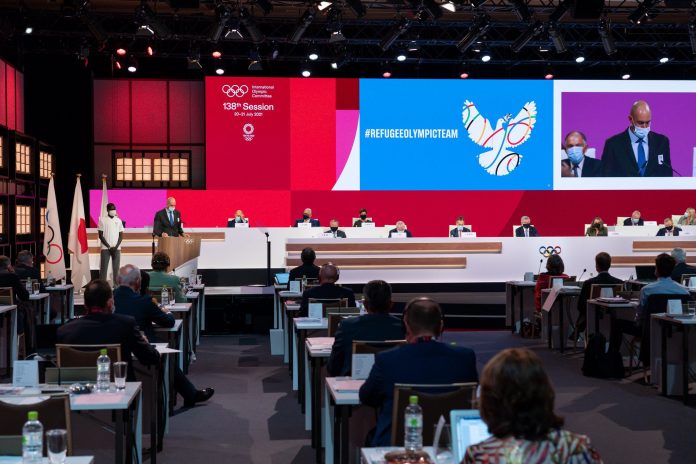 By Makereta Komai, PACNEWS  Editor
The 138th Session of the International Olympic Committee (IOC) got underway in Tokyo this morning with a message of 'peace' and 'harmony' that the host government hopes will shine through when the Games that starts Friday.
Prime Minister Yoshihide Suga welcomed delegates from 205 National Olympic Committees with a message that despite the challenges of Covid19 that resulted in the postponement of the Games from 2020 to this year – 'there is an exit point at the end of the long tunnel.'
While there will be no spectators – the significance of the Tokyo 2020 Games will not be reduced, said PM Suga.
"4-9 billion viewers across the world will watch the event. We will ensure we bring the success of the Games to the world. We will deliver this Games and we will share our success with the world, said the Japanese PM.
He said athletes will be the focus of the success of the Games.
"I remembered in 1964 when Tokyo last hosted the Olympics, I was a high school student, I remembered the athletes that inspired me. Athletes at this Games will aspire dream & hope to the next generation of athletes for the future, said PM Suga
Sharing similar sentiments, International Olympic President Thomas Bach commended the host government for the full mutual trust on the IOC and all the stakeholders to make the unprecedented decision to postpone the Games to this year.
"We were faced with either a cancellation or postponement of the Games. To cancel and move to Paris 2024 would have been the easy road but cancellation was never an option for us.
"IOC will never abandon our athletes. So we made that unprecedented decision to postpone. It has never been done before ever.
"I must admit, we did not know how complex it would be but the only certainty was that we needed to invest more to make it possible, said Bach.
He revealed the decision was made in a 30-minute phone call with former Prime Minister Shinzo Abe – now being made a reality with the Government led by Prime Minister Suga.
The postponed 2020 Games will feature 11,000 athletes from 205 National Olympic Committees (NOCs) competing in 33 sports – with four new sports added to the list at this Games – karate, surfing, skateboarding and sports climbing.
An important decision expected from the two-day 138th Session of the IOC meeting underway in Tokyo will be the decision on the Australian city of Brisbane to host the 2032 Olympic Games. Brisbane has unofficially been selected as the host the Games after gaining IOC approval on last month.
17 National Olympic Committees (NOCs) and seven Associates from the Oceania region, which include Australia and New Zealand are members of the IOC. They come under the Oceania National Olympic Committee (ONOC) umbrella, one of the five continental Olympic bodies, headquartered in Fiji. The postponed Tokyo 2020 Games starts this Friday 23 July and will run through to 08 August.
SOURCE: PACNEWS