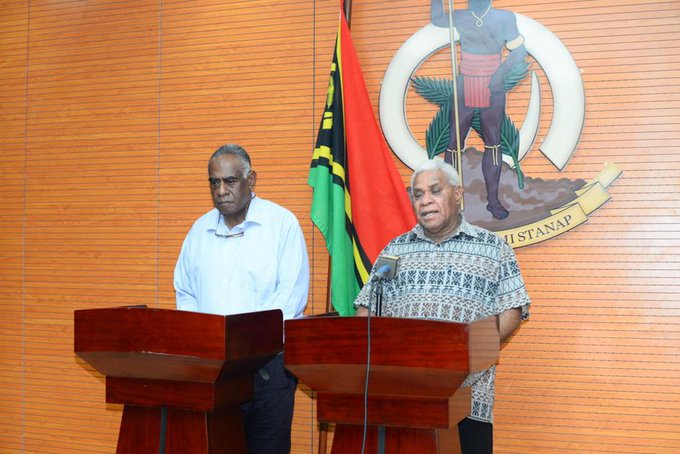 The Loughman-led coalition has welcomed the decision of the Vanuatu Appeal Court that was delivered Friday.
In a press conference, Prime Minister Bob Loughman conveyed his acknowledgment to all church leaders, religious groupings and chiefs for their prayers and continuous moral support during this time when Vanuatu was experiencing a political saga.
He thanked all citizens for adhering to his advice to remain calm and allow court to deal with the matter.
Loughman admitted that while people have their own rights to express their opinion, the final decision would come from the court.
Echoing the words of Loughman, Deputy Prime Minister and Minister of Internal Affairs, Ishmael Kalsakau also thanked everyone for maintaining peace at a time when things were tense until "justice had been delivered to the satisfaction of everyone".
Kalsakau also commended the leadership of PM Loughman.
He stressed that it was unfortunate that a particular point of law had almost placed on hold all the machineries of the government.
DPM admitted that the situation had resulted in loss of public fund during a time when everyone were expected to focus on development of this nation.
To all "fake ID users on Facebook, keyboard warriors, 'bush lawyers' who graduated from Facebook, it is time for everyone to take a lesson of humility.
"When there is a case before court, we allow justice to take its course."
He said the case to question as to whether the MPs were never absent is before the court.
DPM reiterated that they were never absent from the three consecutive meetings. He asked of everyone to remain humbled and let justice deliver its judgment where deemed fit.
He said the government has plans to work for. His message to the people is to focus on Vanuatu, tomorrow.
SOURCE: VANUATU DAILY POST/PACNEWS