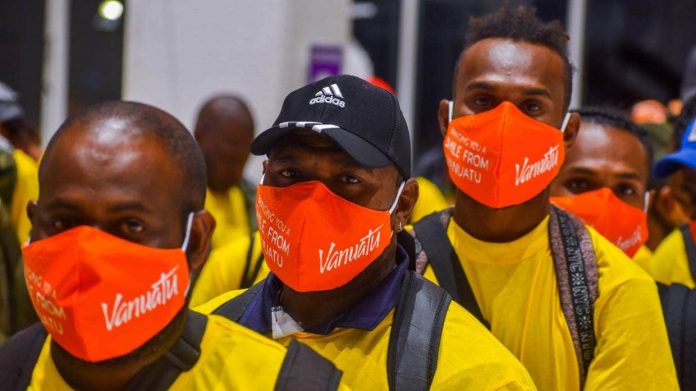 The first seasonal workers in New Zealand's one-way travel bubble with three Pacific countries have arrived in Christchurch from Vanuatu.
The workers, 154 of them, would help industries like horticulture, who are reliant on seasonal workers from the Pacific.
Vanuatu consul general to New Zealand, McKenzie Kalotiti, said the charter flight landed at Christchurch Airport from Port Villa at 6am Monday.
They all bypass the mandatory two-week stay in managed isolation and quarantine (MIQ), but will complete a five-day isolation period at their place of work, undergoing day zero and day five Covid-19 tests.
To be eligible to bypass MIQ, seasonal workers must have had at least one dose of the Covid-19 vaccine before travelling, and those who were not fully vaccinated must complete the process in New Zealand.
It's the first economic-based border exemption the New Zealand Government announced requiring mandatory vaccination and self-isolation, following the Delta outbreak.
For Vanuatu, it's the first step towards recovering its tourism industry.
Kalotiti said all the workers have had at least one dose of the Covid-19 vaccine before travelling to New Zealand. They have until January to complete both doses.
"This is a big step to also helping those back in Vanuatu understand the importance of being vaccinated as the government continues to vaccinate the population," he said in an earlier interview.
Vanuatu Public Health director Len Tarivonda said the new travel bubble established a series of new protocols in both Vanuatu and New Zealand to create safe travel.
"It is the first stage in testing the systems we have put in place in Vanuatu and ensuring our citizens are prepared for travel," Tarivonda said.
"Naturally, we are hopeful that this will lead to two-way travel between our countries, however we need to take it step by step to ensure our preparations are sound."
The workers would be based in the South Island.
Tarivonda said tourism in Vanuatu was keen to start its road to recovery and the one-way travel bubble was a small step towards that.
"At the moment however, we will need to let our Vanuatu workers bring you a smile and little piece of Vanuatu.
"I am sure you will hear them singing and laughing throughout your own communities and hopefully this will inspire you to put Vanuatu on your travel bucket list for when the time is right."
Vanuatu was one of few countries to remain Covid-free.
As of September 26, Tarivonda said 73,730 vaccines had been administered in the main urban centres.
In Port Villa, 62 per cent of the population have received their first dose and 40 per cent were fully vaccinated.
Tarivonda said the challenge now was vaccinating the outer islands, which would get underway in October.
Meanwhile, seasonal workers from Samoa and Tonga are expected to fly into the country from 12 October.
Last week, Prime Minister Jacinda Ardern said Government's intention remained to broaden eligibility for quarantine-free travel from Samoa, Vanuatu and Tonga, as well as Tokelau.
SOURCE: STUF NZ/PACNEWS