Cook Islands Prime Minister Mark Brown is calling on the Asian Development Bank to make it easier to access funding for climate resilience, and be lenient in debt servicing.
The Prime Minister addressed the ADB's 56th annual governors meeting in Incheon, South Korea, last week.
He told the board members that small countries such as the Cook Islands face ongoing economic challenges, including recovery from the Covid-19 pandemic, supply chain issues due to Russia's conflict with Ukraine, and the ongoing climate crisis.
"Our status as a micro economy places my country at an extreme level of economic exposure to natural disasters, which are increasing in intensity and frequency as the climate changes," PM Brown said.
"Each year, every season in the Pacific, someone gets hit. This season, it was New Zealand and Vanuatu that were hit with devastating cyclones, causing immense damage."
PM Brown said climate financing for adaptation purposes was vital for countries like ours, those that are on the frontlines of climate change.
"We are no longer fighting for just our existence; we are fighting for our survival. We are paying for the global effects wrought by the excesses of others," he said.
"Now, we are required to borrow money to build resilience – that is like demanding money for protection. The absurdity in this concept is only superseded by the climate tragedy that continues to damage us."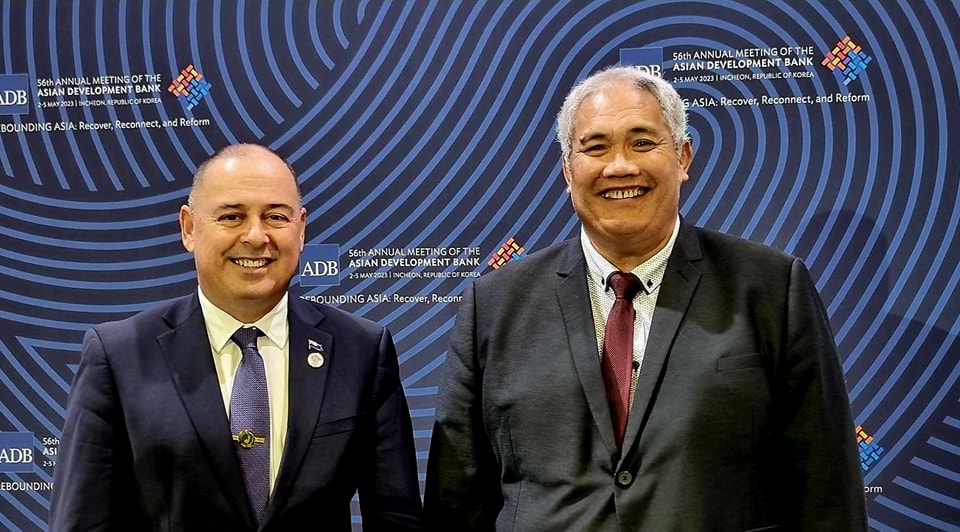 PM Brown said he applauded the bank in outlining its climate strategies moving forward.
"Let us ensure that access to financing to address the many challenges, including the climate emergency we face are equitable, and they give us a fair go at making meaningful interventions within our communities," he said.
PM Brown the Cook Islands' efforts to grow the economy were stymied by the need to take on debt funding.
"Among Pacific member countries, the Cook Islands suffered the largest contraction in Financial Year 2021. GDP contracted by 30 per cent during our border closures. This decline is the largest in the Cook Islands' history," he said.
"Funding the necessary response to the Covid-19 pandemic has come at a steep cost for the Cook Islands. It has consumed the Government's reserves and required the taking on of a substantial amount of debt funding –that has more than doubled our net debt to 47 percent of GDP."
PM Brown said its debt servicing costs are forecast to increase to 16 percent of total government revenue.
"This is more than three times our current debt servicing costs, and with our current reduced economy, debt servicing will demand a significant chunk of our revenue. This will severely impact our capacity to invest in, let alone maintain our infrastructure, and will be a dampener to our attempts to fast track economic growth."
"Every measure to restructure debt to better accommodate debt servicing needs to be considered as we climb back and participate in the global economy," said PM Brown.
SOURCE: COOK ISLANDS NEWS/PACNEWS