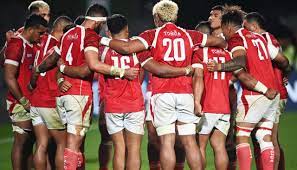 A relaxation of World Rugby's eligibility laws would help avert scenes like the All Blacks' 102-0 victory over Tonga at Mt Smart Stadium on Saturday night, according to beaten coach Toutai Kefu.
Putting together a makeshift squad using only local players, with the majority of Tonga's stars unable to travel to New Zealand from overseas, Kefu's side were outplayed in every department, conceding more than a point a minute in a game that could at best be described as a total mismatch.
But if eligibility laws were loosened to benefit nations like Tonga would be able to compete with the world's best – as seen in rugby league.
At present, to represent a second nation, a player must have served a minimum of three years out of test rugby, hold a passport for their second country, as well as participate in an Olympic rugby sevens qualifying tournament to gain eligibility at all levels.
Former All Black Malakai Fekitoa has recently completed the process to switch from New Zealand allegiance to Tonga, while another former teammate Charles Piutau was denied the chance to play in the Olympic sevens tournament in Monaco, due to his English club commitments.
Another former All Black Ngani Laumape could theoretically also make the switch in a few years' time, having just left New Zealand for French side Stade Francais.
Speaking after his side's loss to the All Blacks, Kefu explained how a change of eligibility laws would "transform" Tonga as a rugby-playing nation.
"There are a few players there ready to be capped, it's just all about the timing.
"It depends what part of the eligibility, I certainly believe there should be a stand-down period.
"My opinion is that extra hoop that they have to jump through, in terms of playing sevens, is probably just a layer of complication we don't need.
"I'm happy with just the three or four-year stand down. [It would] suit us, suit us a lot.
"If that's possible, our team transforms.
"We get two windows a year, which is probably about four weeks. We haven't got the luxury of having all our players play in one competition, and we can train them whenever we want.
"The biggest quick fix would be to get access to our better players. The next one probably can't be done, but spend more time together."
Including the Moana Pasifika side in Super Rugby from 2022 will also be a huge benefit for Tonga, Kefu adds, giving players the chance to play professionally closer to home rather than chase large sums of money in Europe and Japan.
"I could keep a lot of my players locally," he says. "I don't have to send them to France, or the other competitions. I could keep them here where we can monitor them and observe them.".
SOURCE: NEWSHUB/PACNEWS