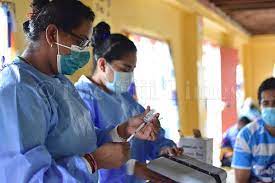 The Fiji Nursing Association says it is concerned about the welfare of members who are taking care of COVID-19 patients in hospitals.
President Alisi Vudiniabola said with the increasing number of cases across the country and the added burden on health resources, she wanted to ensure nurses were well taken care of.
"We just want to ensure our members are being taken care of in terms of being provided food, adequate facilities for rest and privacy and have access to all the personal protective equipment they needed," she said.
Health Ministry permanent secretary Dr James Fong said he was aware of a situation at the Colonial War Memorial Hospital and it was being addressed.
"This has been a concern as soon as the case broke out in CWM," he said. "Unfortunately, CWM had high occupancy.
"We are currently rectifying that by moving some positive cases to isolation units inside and outside the hospital."
In terms of the association's concerns about nurses having enough PPEs, Dr Fong said there was no issue with stock.
"We have enough PPEs but having some issues with distributing PPEs because of restrictions on movement and the need to change some of our distribution standard operating procedures.
"We have been better over the last two days with more decentralised storage areas," he said.
Meanwhile, as of Tuesday 08 June 2021, a total of 220,437 people in Fiji have received the first dose of COVID-19 vaccine.
This is 38 percent of the Ministry of Health and Medical Services' target population of 587,651. A total of 4,773 people across the country have received their second dose.
The Ministry of Health's target population for the COVID-19 vaccination is now 587,651 and not 650,000. This target population was identified by the Ministry of Health using the Zone system whereby the target population was identified and counted by existing zones.
The target population includes the actual number of the Permit Holders in the country as provided by the Department of Immigration.
The previous target population of 650,000 was calculated based on COVAX's estimate on Fiji's population.
The Ministry of Health will continue to conduct COVID-19 community vaccination drive as more vaccines arrive into the country. People are urged to register online for the COVID-19 vaccine.
SOURCE: FIJI TIMES/PACNEWS