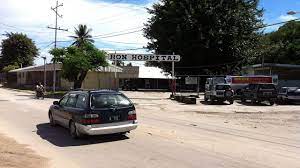 Nauru's President Lionel Aingimea has announced the first two COVID-19 cases in Nauru, while stressing that there is no cause for panic.
The two COVID-positive people arrived on a passenger flight on 31 March. They remain in quarantine.
President Aingimea says both persons are well and do not have any symptoms, and are being cared for by the medical team at the COVID Ward at the RON Hospital.
All passengers who travelled to Nauru on Thursday, 31 March flight tested negative all three times during their pre-travel quarantine.
All passengers were then transported by the Taskforce to the Brisbane International Airport to check-in and undergo usual travel procedures.
The Taskforce believes there was a common exposure contact at Brisbane Airport on Thursday that was the source for the two confirmed cases we have identified.
It is suspected that many of the passengers on the flight were exposed to the same COVID-19 source at Brisbane Airport last Thursday.
The Taskforce is closely monitoring all other passengers from the flight, who all remain in quarantine at the Budapest Hotel and at Anibare Village.
There will be daily testing of all these passengers and a possible extension of their quarantine period will be considered.
A government statement released said:
"This situation is not unexpected. The Taskforce and Health Department have planned and prepared for this.
For now, the immediate priorities are:
– ensuring all cases are cared for; these are our family and friends;
– we contain the virus in quarantine and ensure no spread to the community; and
– everyone must get their COVID-19 vaccine and make sure they are up to date with all doses".
SOURCE: ISLANDS BUSINESS/PACNEWS