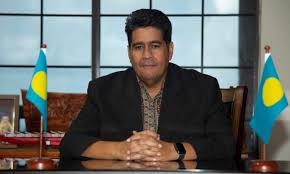 Palau President Surangel Whipps Jr on Wednesday rejected the call of the Pacific Islands Forum (PIF) new Secretary-General Henry Puna for a continued political dialogue over Micronesia's withdrawal from the regional body.
"Probably not, we are out of PIF.," Whipps told reporters last week.
President Whipps said Micronesian members, comprising Palau, the Marshall Islands, Kiribati, Nauru, and the Federated States of Micronesia, do not recognise Puna "as legitimate," PIF Secretariat head.
He said Puna being selected as Secretary-General is a "slap in the face" to Micronesia.
"Our position has been very clear, we don't recognise Puna as legitimate, and he should not be there, that was the decision that was taken and that's why Micronesia is out," Whipps said.
In a statement last week, Puna said that a political dialogue is underway with the Micronesian Presidents.
He said that dialogue is dialogue "is symbolic of our Pacific way of talanoa and amicable resolution of differences. Let us await the outcome of that process. As the Forum Secretariat, we will continue to serve all Members and I look forward to that ongoing engagement across our Forum family."
But President Whipps said the trust has already been broken.
"We have to trust each other, we have to have a system that is based on trust and commitment that should be honoured,"
"Why are we part of an organisation that doesn't honour commitment?'
In February, the PIF has fractured after Micronesia's preferred candidate was not selected.
Micronesia said it was their turn to provide the Secretary-General and that they will leave the forum if their candidate is not selected.
Palau, Nauru, FSM, and RMI have submitted their notice of withdrawal from the Forum.
SOURCE: ISLAND TIMES/PACNEWS