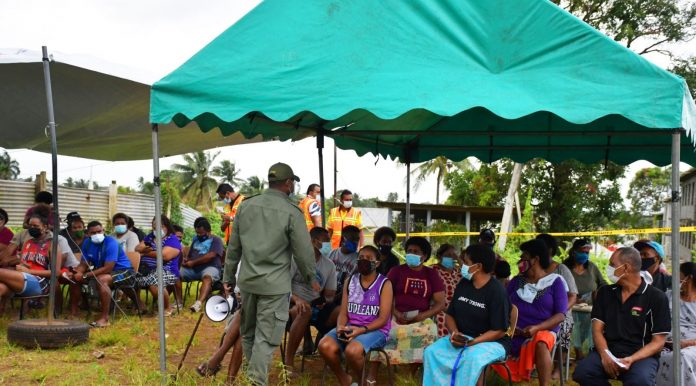 The COVID-19 crisis is not going to end in October even if Fiji achieves its vaccination target, says National Federation Party(NFP) leader Professor Biman Prasad.
During a debate on the 2021-2022 Appropriation Bill in Parliament on Monday, he said people would continue to fall ill and lives would continue to be lost even if inoculation targets were met.
He also said it was likely more than 50,000 people would be infected by COVID-19.
"First point, the assumption that the crisis will end in October, the crisis is not going to end in October," the NFP leader said.
"It will continue at least to the end of the year.
"Even if we reach vaccination targets, we will still have people sick and dying.
"The second point, it is likely that more than 50,000 people will be infected with this virus.
"In fact, some say that we may already have reached that number, why?
"Because the Ministry of Health is no longer testing people showing symptoms.
"People are told, 'Just stay at home and look after yourselves'.
"What does this mean? It means that the Ministry of Health is too busy treating people to get information on the virus.
"They know that the virus is completely out of control.
"No one knows how many cases are out there.
"So, we are now in fact powerless against the virus," he said.
Meanwhile,the reality of COVID-19 in Fiji is that major hospitals are full, the conditions of temporary field hospitals need to improve, test results are misplaced, telephones are not answered, front liners are getting sick and tired, mortuaries are full, reports of bodies misplaced or missing, and deaths are left unattended at hospitals for hours.
This, according to Opposition MP Filipe Tuisawau.
He told Parliament the Opposition maintained that Attorney-General and Minister for Economy Aiyaz Sayed-Khaiyum failed to carry out a comparative analysis with countries such as India, the United States, and others.
"Because the result will surely show that the spread of the virus in Fiji is now uncontrollable and our infection rate per capita has exceeded India's infection rate, at the height of their recent second wave of the pandemic," he said.
He said the question was how do we hold leaders accountable for leadership negligence which has resulted in this situation.
"We on this side of the House will hold a commission of enquiry in the government's management of COVID-19 as was done in Australia and the United Kingdom.
"There was a lack of contingency planning when COVID appeared and lapses of judgment in our border protocols."
Tuisawau said this must be thoroughly analysed and lessons learned taken up for better management in the future and for the sake of our people who died and have suffered from COVID-19.
"We continue to thank all frontliners from the Ministry of Health, the disciplined forces, civil societies, NGOs and volunteers for the dedicated and selfless service despite the challenges," he said.
SOURCE: FIJI TIMES/PACNEWS