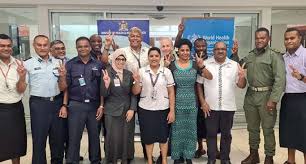 The first doses of the AstraZeneca COVID-19 vaccine have been administered to 10 frontline workers at the Nadi International airport today.
Receiving the first 'jab', Dr Mara Vukivukisevu from the Lautoka hospital reiterated that having the vaccine is very important during this fight against COVID-19.
Dr Vukivukisevu is one of Fiji healthcare heroes who have treated COVID patients in the Lautoka Hospital Isolation Ward.
"I encourage everyone to get vaccinated against COVID-19. This is a fight that the whole world is up against and having this vaccine is very important. COVID-19 is just like going into a battle and if you don't have a bullet proof vest you will surely be caught out in the crossfire. That's what these vaccines represent, our protection from this virus."
The same sentiments were made by RFMF head of COVID-19 security taskforce, Major Neumi Vakadewabuka who also called on all Fijians to register in order to be vaccinated.
"It will be good for you, good for Fiji. It's safe, we have done it and so should you," he said
The first 'jabs' were administered to:
*MOH – Dr Mara Vukivukisevu
*MOH nurse – Pratika Singh
*MOH Health inspector – Setareki Raiula
*RFMF's Major Neumi Vakadewabuka
*FRCS – Sanjeep Reddy
Hotelier – Daniel Roy
*Fiji Airways Purser – Maria Vani
*ATS Assistant Manager Passenger Services – Nairah Pakeezah Mohammed
*Fiji Police Force Officer in Charge Border Police – Superintendent Aisake Kafoa
*Fiji Airports – Joe Grey
Fijian Prime Minister Voreqe Bainimarama said "Our frontline workers are being vaccinated first because they face the greatest risks. I plan to be vaccinated myself as soon as I become eligible. These vaccines are safe, they are effective, and they are the key to defeating this terrible pandemic.
Meanwhile, the Health Ministry says it will have backup systems in place to manage allergic reactions to the Oxford AstraZeneca COVID-19 vaccine which will soon be rolled out across the country.
Permanent secretary Dr James Fong made the comment in response to queries from The Fiji Times about the Austrian Government suspending vaccinations on a batch of the vaccine while it investigated the alleged death of one person and allergic reaction of another last Sunday.
Dr Fong said there had been no investigations into the incident to establish cause and effect of the death and allergic reaction.
He said it was a well-established fact that there were risks associated with any new medication.
"The current vaccine rollout in Fiji will have a back-up protocol to watch for allergic reactions and treat them early," Dr Fong said.
He also dispelled rumours that the COVID-19 vaccine only worked on the elderly.
Dr Fong said studies had shown the rumours which began in European countries were not true. He said evidence showed that a single COVID-19 vaccine dose gave high levels of protection even in the oldest age groups.
"Fijians of all age groups will be vaccinated and all these claims are baseless rumours."
He said a study by the United Kingdom Health Ministry on patients in two Bristol hospitals found both Pfizer BioNTech and Oxford AstraZeneca jabs prevented 80 per cent of hospital admissions among over-80s.
The study found that some European countries were refusing to vaccinate the elderly because of a lack of convincing data.
France agreed to offer the Oxford AstraZeneca vaccine, which was easier to store than the Pfizer one, to over-65s only recently, while Germany still wasn't doing so….. PACNEWS
SOURCE: FIJI GOVT/FIJI TIMES/PACNEWS