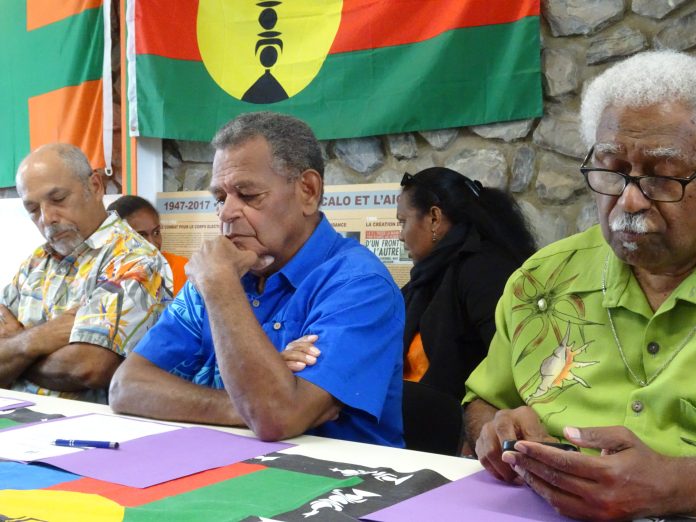 By Nic Maclellan in Noumea, New Caledonia
Key members of the New Caledonia's independence movement Front de Libération Nationale Kanak et Socialiste (FLNKS) have debated policy at party congresses, in preparation for looming negotiations with the French Government.
France's Minister for the Interior and Overseas Affairs, Gérald Darmanin, and Minister for Economy and Finance, Bruno Le Maire will arrive in New Caledonia next week.
Le Maire will hold discussions with the Government of New Caledonia and business leaders over the current debt crisis and economic woes facing the country's crucial nickel industry. Darmanin's focus will be yet another round of discussions on a new political statute for New Caledonia, after three referendums on self-determination under the 1998 Noumea Accord.
To prepare for the talks with the French government, three key parties in the FLNKS held congresses in different parts of New Caledonia between 9-12 November.
The largest independence party, Union Calédonienne (UC) met on the Isle of Pines, with the theme of their 54th Congress "Together, let us rise up to embark on the canoe of independence."
Nearly 500 members of the Parti de Libération Kanak (Palika) gathered at Huiwatul tribe on Drehu (Lifou) in the Loyalty Islands, for the 48th Palika Congress. Leaders reaffirmed their desire "to open a new transition phase for New Caledonia and to set out a road map with an ultimate trajectory towards independence."
Meanwhile the Union Progressiste en Mélanésie (UPM) met at Unia tribe near Yaté in New Caledonia's Southern Province, for the 40th UPM Congress since it was founded in 1974.
The long-standing leadership of these FLNKS members remains in place after the congresses, with the re-election of party presidents Daniel Goa (UC), Jean-Pierre Djaïwé (Palika) and Victor Tutugoro (UPM).
However each party has brought new, younger people into leadership posts. Dominique Fochi replaces Pierre-Chanel Tutugoro as UC Secretary General, while Patrick Nicar takes the same position within UPM, replacing Jean Creugnat after a recent scandal over sexual harassment. Judickaël Selefen, the young director general of the Northern Province's tourism enterprise, is newly appointed as a Palika spokesperson, alongside old guard leaders like Djaïwé and Charles Washetine.
Different pathways
Despite common agreement on the ultimate goal – sovereign political independence – FLNKS members continue to debate different visions of the best way to get there.
Palika has long proposed "independence in partnership" with France, with an undefined period of transition towards sovereignty.
"The political project we defend is independence in partnership with France," Judickaël Selefen said. "This is not a proposal that we pulled out of our hat. Rather it is one of the four options put forward by experts who were commissioned by the French State to outline possible paths to exit from the Nouméa Accord."
Selefen noted that "at the end of this transitional period, there are certain powers to transfer for which we propose to form a partnership with the French State, to continue learning and taking responsibility, in sectors which are now devolved to New Caledonia."
As a fellow member of the parliamentary group Union Nationale pour l'Independance (UNI) in New Caledonia's Congress, the UPM presents a similar vision to Palika.
In recent weeks, both the UNI and UC-FLNKS parliamentary groups have held discussions with the anti-independence party Calédonie ensemble, seeking to tease out areas of agreement and difference. Last week, UNI also held 15 hours of discussion with French delegate Remi Bastille and Loyalist leaders.
"There are still difficult points to resolve before we can forge a consensus," Palika's Judickaël Selefen said, "but overall we are pleased by the progress of the talks."
"We'll continue to talk with those opposed to independence, to explain our project," agreed UPM's leader Victor Tutugoro. "After the Matignon-Oudinot Accords and the Noumea Accord, can we go beyond our posturing? Can we truly sit together to discuss an agreement that we develop together, for the future, for our children and grandchildren? But we feel there can be no stability as long as the question of sovereignty is unresolved."
"For UNI, we feel we will go as far as we can with discussions next week, with Minister Darmanin and the anti-independence parties," Tutugoro added. "If we can reach agreement on some points, that's great – if not, too bad! We just need to keep going to the end of the discussions."
UC calls for dialogue and mobilisation
The UC-FLNKS parliamentary group – which includes UC, RDO and parties outside the FLNKS such as Dynamique Unitaire Sud and Parti Travailliste – continues to call for full and sovereign independence. Union Calédonienne takes a harder line on France's colonial strategy, and has boycotted some rounds of discussions over the last two years.
For the oldest political party in New Caledonia, discussions with the French State can resume – but only around UC's vision of accession to full sovereignty. UC President Daniel Goa said his party remains opposed to Overseas Minister Darmanin's call for a new political statute within the French Republic: "None of us wants a new status within France. On the other hand, we are ready to examine any new status alongside France."
Arguing for "a trajectory towards sovereignty in interdependence" with France, Goa criticised the current proposal tabled by Darmanin, known as the "document martyr" (a draft policy paper used as a basis for negotiations between supporters and opponents of independence, now in its third version).
The party wants any new political project to reaffirm the right to self-determination, and remains deeply opposed to efforts by France and the Loyalist bloc to remove New Caledonia from the United Nations list of non-self-governing territories.
Speaking after the UC Congress, Goa told Islands Business: "We will never abandon the trajectory towards decolonisation approved by the 41st FLNKS Congress in February 2023. We have always considered that the achievements [of the Noumea Accord] should never be called into question: the citizenship electoral rolls, the maintenance of our country on the list of non-self-governing territories, the principle of irreversibility and the transfer of sovereign powers. This is our bottom line."
After the referendum on self-determination in December 2021 – where most independence supporters stayed away from the polls – UC continues to challenge the credibility and legitimacy of the vote (concerns echoed by international observers like the Pacific Islands Forum). In the face of French intransigence over the results of three referendums between 2018-21, UC will consider requesting international mediation, including from the United Nations.
For UC's Gilbert Tyuienon, the two watchwords from the party congress are "Dialogue" and "Mobilisation." As his party's first Vice President, Tyuienon said UC welcomed recent discussions with Calédonie ensemble and "wants to talk with people who support unity and progress for our country."
He said the UC congress talked about "a general mobilisation of our activists on the ground", to raise awareness about the current negotiations, and warn people of President Macron's plans to reform the French Constitution in early 2024 (opening up the electoral rolls to more French voters for the three Provincial Assemblies and national Congress).
"It's important to say we have concerns about the partiality of the French State," Tyuienon added. "To build a lasting peace in New Caledonia requires the impartiality of the State, working for the interests of everyone."
UC negotiator Roch Wamytan – the President of New Caledonia's Congress – also said he was disappointed that the French government has not fully responded to a lengthy statement presented by FLNKS negotiators last April, nor a more recent dossier presented to Overseas Minister Darmanin, which details the key objectives of the independence movement.
Last July, French President Emmanuel Macron visited New Caledonia, and pledged new military deployments and 18 billion Pacific francs investment in the Forces Armées de Nouvelle-Calédonie (FANC – the French armed forces deployed in New Caledonia). But for UC President Goa, "we will strongly oppose France's strategy of military occupation and Indo-Pacific Strategy. France only has legitimacy in Oceania through the peoples it administers. It can't do anything without us nor against us."
He warned "if the French state wants to recolonise New Caledonia by unilaterally breaking its word, we will resist. We will oppose new settlement of the colony."
For Palika president Jean-Pierre Djaïwé, "the independence movement are the representatives of the colonised people. The non-independence leaders are here because at a particular moment in history, the French State brought other people to this country. If we cannot agree amongst ourselves, the State should step out of its role as impartial arbiter to put forward some proposals."
UC's Daniel Goa says that his party's strategy is to seek a renewal of the FLNKS, opening the organisation to membership of other progressive forces, "all nationalist movements, all independence organisations, political, NGO, trade union, religious and customary organisations."
In contrast, Palika argues that the current membership of the FLNKS (UC, Palika, UPM and RDO) should be left as is, noting it is already difficult to agree with just four members and could be worse if the coalition expanded.
Given differences between and within both independence and Loyalist coalitions, a full resolution of outstanding differences will be difficult next week. But after two years of stop and start dialogue, the clock is ticking.
Early next year, President Macron plans constitutional reforms to change provisions of the French Constitution that embed the 1998 Noumea Accord in French law. But undertaking unilateral changes in Paris without agreement in Noumea is a dangerous path, and more than one New Caledonian leader has raised concern about trouble if France acts with prior consensus of all parties.
SOURCE: ISLANDS BUSINESS/PACNEWS