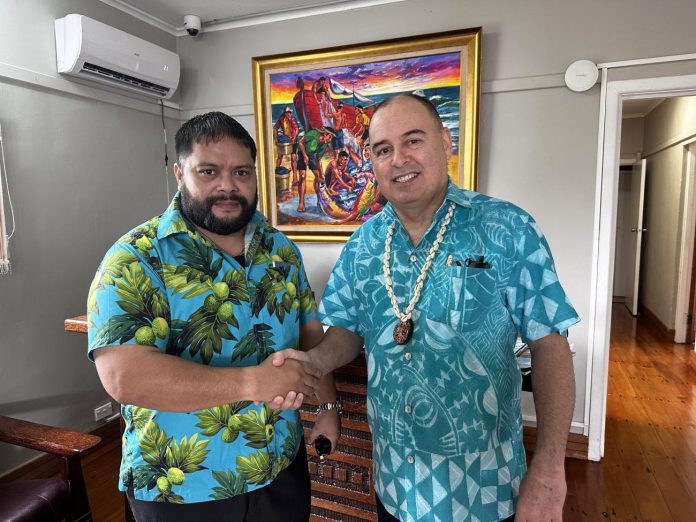 Cook Islands Prime Minister Mark Brown met with his Nauru counterpart Russ Kun Thursday ahead of today's Forum Foreign Ministers Meeting (FFMM) to be chaired by Prime Minister Brown at the Pacific Islands Forum Secretariat.
PM Brown supported by Ministry of Foreign Affairs and Immigration Secretary Tepaeru Herrmann and High Commissioner to Fiji, Jim Armistead met President Kun at the Cook Islands High Commission in Suva.
The two Leaders last met at the International Seabed Authority Assembly earlier this year, where both were supporting consideration of the ISA's regulatory framework for seabed exploitation.
During their meeting, the two Leaders discussed several issues including improved flight and shipping connectivity, improved access to concessional and debt finance and seabed minerals development. They also discussed key agenda items for today's FFMM, including Forum Dialogue Partner and Engagement, Regional Security issues, and the Cook Islands proposal for Pacific Partnerships for Prosperity (PPfP).
"Amongst the nine initiatives the Cook Islands is proposing as PPfP, President Kun welcomed the proposal for an extension to the University of the South Pacific Moana Pacific Centre for Ocean and Climate Stewardship through a Pacific Centre of Excellence for Deep Ocean Science to be based in the Cook Islands," said Prime Minister Brown.
"Such a Centre would offer a home for the storage and sharing of scientific data, research capabilities, and information to support Pacific Governments policy considerations as relates to deep sea minerals development. The Centre would also provide for a Pacific-led international community knowledge hub, with the Pacific at the forefront of the knowledge frontier on SBM development and open to likeminded international institutes and partners."
Recommendations emanating from today's FFMM will be considered by the Pacific Islands Forum Leaders Meeting and involves other Leaders who are also Foreign Ministers, including Samoa Prime Minister Fiame Naomi Mataʻafa and Kiribati President Taneti Ma'amau.
SOURCE: COOK ISLANDS GOVT/PACNEWS