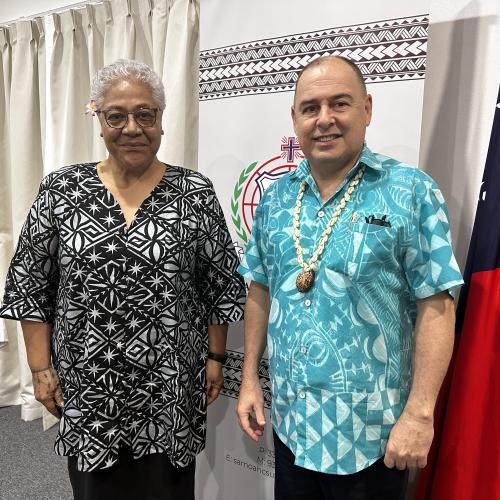 Cook Islands Prime Minister Mark Brown met with Samoan Prime Minister Fiame Naomi Mata'afa in Suva this week ahead of the upcoming Forum Foreign Ministers Meeting (FFMM)to be held today at the Pacific Islands Forum Secretariat.
Brown supported by Ministry of Foreign Affairs and Immigration Secretary Tepaeru Herrmann, met with PM Mata'afa at the Samoa High Commission in Suva.
During their discussions, Prime Minister Brown and Prime Minister Mata'afa discussed flights and shipping connectivity, labour mobility, tourism, the Rarotonga Treaty and the Pacific Resilience Facility. Both governments have been actively pursuing expanded flight connectivity and greater uplift including with Fiji since COVID-19.
The two Leaders also had an exchange on their respective Leader Summit preparations, with the Cook Islands hosting the Pacific Islands Forum Leaders Meeting in November and Samoa preparing to host the signing of the Samoa Agreement shortly after as well as the Commonwealth Heads of Government Meeting in 2024.
The two Leaders, whose nations have diplomatic missions in Suva and are a short stroll from one other, also discussed key agenda items for today's FFMM to be chaired by Prime Minister Brown, including Forum Engagement and Advocacy, Regional Security Related Initiatives and the Cook Islands proposal for Pacific Partnerships for Prosperity.
"Amongst nine initiatives the Cook Islands are commending as Pacific Partnerships for Prosperity when our Forum Leaders meet in Rarotonga in November, Prime Minister Mata'afa and I discussed the need to work towards a more holistic regional labour mobility policy setting, informed by evidence, and which ensures win-win outcomes for both sending and receiving countries," said Prime Minister Brown.
"This holistic approach must look at recalibration of the regional labour mobility framework to include key issues like retention strategies, diaspora engagement, and resources to deliver. Furthermore, effort must be accorded to supporting intra-Pacific labour and how to harness the skills and experience of the global Pacific Islander diaspora," he said.
SOURCE: COOK ISLANDS GOVT/PACNEWS