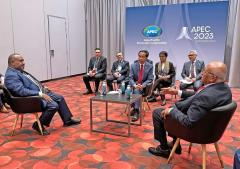 High level Summits like the APEC Summit in San Francisco present opportunities to meet and hold bilateral, trilateral or multilateral talks for participants and today was no exception.
Fiji Prime Minister Sitiveni Rabuka and his Papua New Guinea counterpart James Marape engaged in a dialogue with the Indonesian President, Joko Widodo, expressing the countries' respect for "state sovereignty"
This meeting marked the first trilateral dialogue among the leaders following the appointment of Prime Minister Rabuka and Prime Minister Marape as the Melanesian Spearhead Group (MSG) special envoys to Indonesia.
Given that Indonesia is an important partner for the Pacific Island countries with geographic and ethnic ties to the MSG, the meeting was crucial to foster genuine dialogue at the level of the heads of government.
The Indonesian President has extended an invitation to the two Prime Ministers to visit his country, as part of efforts to further strengthen diplomatic relations.
SOURCE: FIJI GOVT/PACNEWS