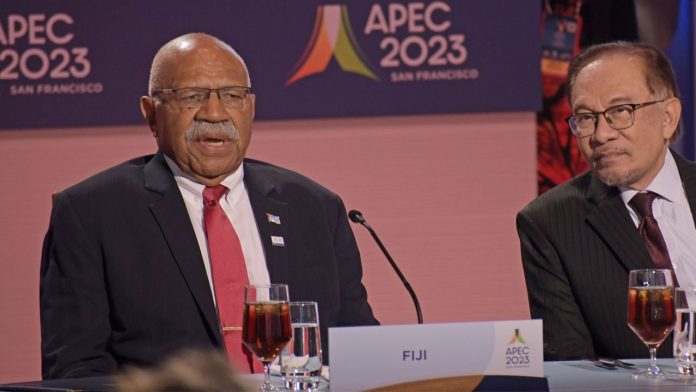 At this morning's APEC Leaders Summit informal dialogue, Prime Minister Sitiveni Rabuka took centre stage, urging leaders to take steps to increase climate actions and economic integration in terms of trade and investment with smaller Pacific island nations.
He specifically highlighted the need for APEC leaders to assist the Pacific in responding to the immediate and urgent threat of climate change through actions that mitigate and allow for better adaptation.
"Our high disaster risk profile in the Pacific, the lack of access to transformational technologies, and ongoing loss and damage from weather-related events, mean that our ability to transition towards safety, stability, and sustainability is often compromised," he shared.
"We now need more than just shared values-we need to have strategies and partnerships with adequate and accessible resources to respond to this very existential crisis, which is of no fault of the Pacific island nations.
"It is my hope that we can align our ambitions in ways that are tangible, actionable, and innovative. Our objectives can only be achieved if we, as APEC leaders, take affirmative action and lead the transformation and respond according to the challenges in front of us."
The dialogue was chaired by the U.S President, Joe Biden.
President Biden told the leaders that; "We have so much more work to do. You know the impacts of climate change are being felt the most by those countries that contribute the least to the problem, including developing countries".
"I'm working with our Congress to dramatically increase international climate financing and this year, the world is on track to meet the climate finance pledge that we made under the Paris Agreement of $100 billion collectively.
"I encourage everyone around this table to also take strong national actions because it will take all of us to meet this moment. With the right commitments from every economy here, we can limit warming, build new energy futures and leave no one behind."
The leaders present at the dialogue included the Chinese President Xi Jinping, Indonesian President Joko Widodo, Canadian Prime Minister Justin Trudeau, U.S Special Presidential Envoy for Climate John Kerry, Australian Prime Minister Anthony Albanese and Papua New Guinea Prime Minister James Marape, to name just a few.
SOURCE: FIJI GOVT/PACNEWS