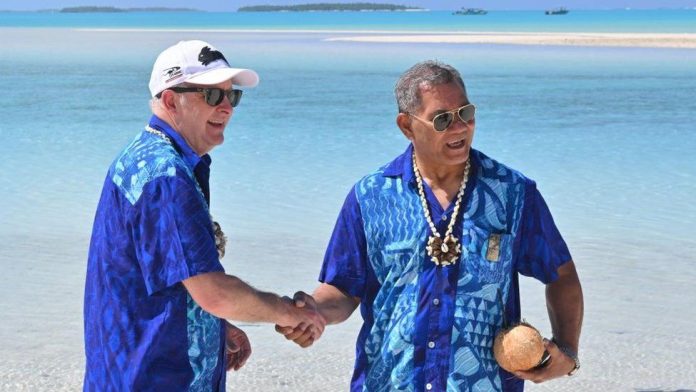 Australia has offered refuge to citizens of Tuvalu because of the catastrophic impacts of climate change, in a landmark new pact.
Tuvalu – a series of low-lying atolls in the Pacific – is among the nations most at risk from rising seas.
It is home to 11,200 people and has repeatedly called for greater action to combat climate change.
Australian Prime Minister Anthony Albanese described it as a "ground-breaking" agreement.
Tuvalu Prime Minister Kausea Natano called it "a beacon of hope" and "not just a milestone but a giant leap forward in our joint mission to ensure regional stability, sustainability and prosperity".
Up to 280 people per year will be granted the new visas, which will allow them to live, work and study in Australia.
It is the first time Australia has offered residency to foreign nationals because of the threat of climate change, the Australian Broadcasting Corporation reported.
"It will be regarded as a significant day in which Australia acknowledged that we are part of the Pacific family, and with that comes the responsibility to act," Albanese told reporters on Friday.
The new treaty – known as the Falepili Union – is the "most significant" agreement between Australia and a Pacific country ever, he added.
It also promises Australian assistance to the nation on climate action and security.
Under the agreement, Australia has committed to defending the Pacific nation from military aggression, and Tuvalu has agreed it will not enter defence pacts with any other countries without Australia's approval.
New Zealand and the U.S have similar pacts with a handful of other Pacific nations such as Palau, the Federated States of Micronesia and the Cook Islands.
Australia has also pledged funding to help Tuvalu adapt to climate change, including A$16.9m ( US$10.7) to expand the landmass of its main island by 6 percent.
Tuvalu has long been grappling with how to protect itself from rising seas.
In September it changed its constitution to say its statehood would remain in perpetuity, even if the impacts of climate change – or anything else – result in the loss of its physical territory.
And in January it vowed to build a digital version of itself in the metaverse to preserve its history and culture.
SOURCE:PACNEWS/WIRE