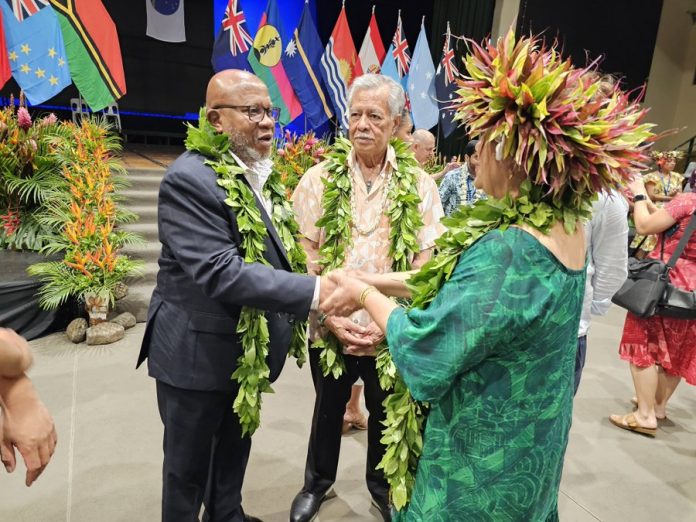 The United Nations General Assembly (UNGA) President has commended member states of the Pacific Island Forum in elevating sea-level rise for the attention of the international community, whose support and intervention is absolutely necessary to address these dire issues of climate change impacts.
Francis Denis told journalists in Rarotonga, the UNGA and the United Nations as a whole must act decisively to support small islands in meeting these daunting challenges.
"This includes helping to address the immediate threats through adaptation and resilience building.
"It includes, for example, helping to ensure that resources are available to communities to respond quickly and flexibly to disasters and/or climate related events that destroy or damage sensitive and/or necessary infrastructure and facilities.
"It includes working to protect, for posterity, the rich and diverse tapestries of culture and heritage built by island communities over several generations.
And it includes removing any doubt or uncertainty that exists, politically, about the statehood, sovereignty and accompanying rights, including the maritime zones, that impacted countries have, as well as about the long-term status of their membership of the United Nations," Francis told journalists on the sidelines of the Forum Leaders Meeting in Rarotonga.
He said Small Island Developing States (SIDS) comprise nearly 40 Member States of the United Nations and the Pacific Islands make up a sizeable group within island nations and must be supported.
"They are as deserving, as important, as warranting of support and engagement as any other Member State. And I say that both as President of the General Assembly, whose responsibility it is to represent all Member States.
"We have to work together to unify our positions in order to address the challenges we face.
"And right here in the Pacific, for islands that are small, under-resourced, remote, and highly vulnerable, the challenges are first and foremost climate change and sea-level rise. They are, to be clear, existential, threatening your homes, your homelands, your heritage, your culture, your livelihoods, and your communities".
And I refuse to be a bystander to the disappearance and loss of such profound history and heritage, or to the hardship and pain of people, forced by necessity, to abandon their native homeland, rendered uninhabitable by rising sea-levels, he said.
"The message that I have brought with me is that I am working with small islands to address these issues, and I am championing them at the UN General Assembly in New York.
"I hope to leave with a robust show of support and clear guidance from leaders in the region about how the UN General Assembly can effectively address these burning issues.
"It is my intention to carry those messages and that advocacy with me to COP28, to the Fourth International Conference of Small Island Developing States, which will take place in Antigua and Barbuda, in the Caribbean, in May 2024.
The hope is, that the result will deliver constructive, decisive, and meaningful change for Small Island States. They need it urgently," said the UNGA President.
Francis Denis is the first President of the UN General Assembly to participate at the Pacific Island Forum Leaders Meeting.
SOURCE: PACNEWS