By Rowena Acraman
Tonga's move to consider deep sea mining (DSM) has been described by Pacific Islands Association of NGOs executive director, Siale Ilolahia as a "story of liability" for the people of Tonga and remains a diverging issue.
Ilolahia, stood as an esteemed speaker at the recent Forum Economics Ministers Meeting (FEMM)public seminar held 09 August at the University of the South Pacific, Suva, Fiji.
Tonga is one of the few islands nations agreeing to work with Canadian mining company, The Metals Company (TMC) in regards to DSM. Ilolahia stated that a civil society investigation conducted last year revealed that Tonga does not have strong legal frameworks in place concerning DSM.
"We are talking about that kind of level of concern from civil society, so we carried out an exercise and we found was that we don't have a strong legal framework to protect ourselves from a situation like that," she states.
Ilolahia said that if there are no proper compliance laws from these companies, then liabilities are sure to befall the people.
"Let's say compliances of the company are not intact and there are complaints from other companies against Tonga for not being careful, then there will be a huge liability that will befall our people," Ilolahia stresses.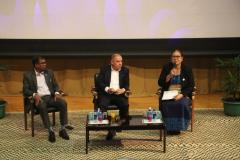 Ilolahia states that further investigations by civil society reveal that there are actual laws in relation to DSM.
"We have about 20 different laws that are related to deep-sea mining. Those laws sit with different ministries and those ministries don't even talk to each other,".
Ilolahia told the audience that Tonga's situation was something other nations could relate to; however, ignorance could be costly to small islands in the region. She further expressed how she wished she shared the Cook Island's PM's preparedness and ambition in regards to DSM.
"I wish I shared the PM of Cooks Islands ambitions and inspiration. They think they have done quite a lot of work making sure that some of those things are intact and I wish I shared the kind of ambition that they had," she said.
She further stated the ocean is a public commodity but nations tend to forget boundaries and preciousness of it. Ilolahia concluded her speech by leaving the audience with a question about the 2050 strategy.
"We are talking about civil society and our community, participating in how we see our visions for the future of the pacific but when we have certain countries, sovereign countries like Tonga who get into the DSM and start looking at the options of exploitation, where does that leave the region in terms of regionalism? When we know harm can be done, decision made by one country can affect the rest of us," she said.
SOURCE: PACNEWS