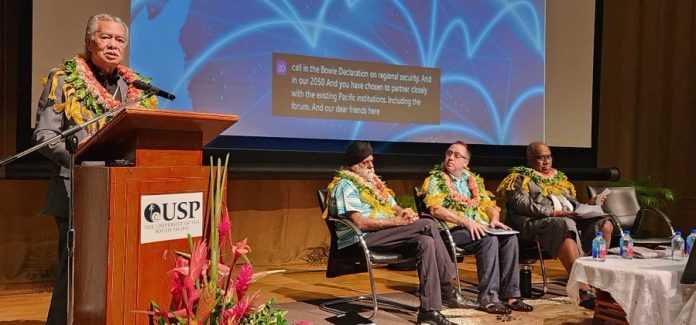 In a bid to improve connectivity and invest in modern and resilient ICT infrastructure, the Fiji Government has commenced on 5G testing and is aware of the criticality of 5G networks and its importance for emerging technologies across Fiji's economies.
This was highlighted by the deputy Prime Minister and Minister for Communications, Manoa Kamikamica at the launch of the USAID's new Digital Connectivity and Cybersecurity Partnership (DCCP) at the University of the South Pacific (USP)
The DCCP-Pacific is directly engaged in 12 Pacific Island countries, including Fiji.
Rotuma has also been identified as the pilot island for the UN Smart Island Programme that Fiji is a part of.
The government is prioritising digital transformation through the UN Smart Island Programme.
Kamikamica said the goal is to address socio-economic challenges and improve livelihoods by connecting people in Rotuma to a suite of digitally enabled services through the use of new and emerging technology and digital transformation.
"Once the Smart Island Programme is successfully rolled out in Rotuma, we can use those insights as we deploy to other unconnected and underserved areas, not only in Fiji but across the Pacific Region."
Kamikamica said a scoping exercise for the UN Smart Island Initiative has been completed.
This UN project installed satellite ground stations to provide connectivity to communities within nine Pacific countries and made disaster response operations possible in the aftermath of TC Harold.
Forum Secretary General Henry Puna said Pacific peoples pay some of the highest prices for internet services anywhere in the world.
"In PNG, mobile data costs 19 percent of the average monthly per capita income – significantly more expensive than the global average, of only 1 percent
"Many of our peoples live in remote parts of our Blue Pacific Continent, outside of the range of ICT networks. Indeed, only 45 percent of the Pacific population had access to a 4G mobile network or better, in 2021.
"And where we do have good access to these networks, we are facing new and rapidly evolving risks to our security.
"We know we need to work hard, to develop our ICT technology across the region.
"We know we need to work smarter, to ensure our limited resources are put to good use.
"And most importantly of all, we know Pacific Island peoples are up to the challenge," said SG Puna.
The United Nations, with the leadership of the International Telecommunications Union (ITU), undertook a satellite connectivity project in nine Pacific countries, including Fiji, Kiribati, Micronesia, Nauru, Papua New Guinea, Samoa, Tonga, Tuvalu, and Vanuatu, with over 90 satellite ground terminals provided, including C-Band, Ku-Band, and Ka-Band terminals.
SOURCE: FIJI GOVT/FBC NEWS/PACNEWS