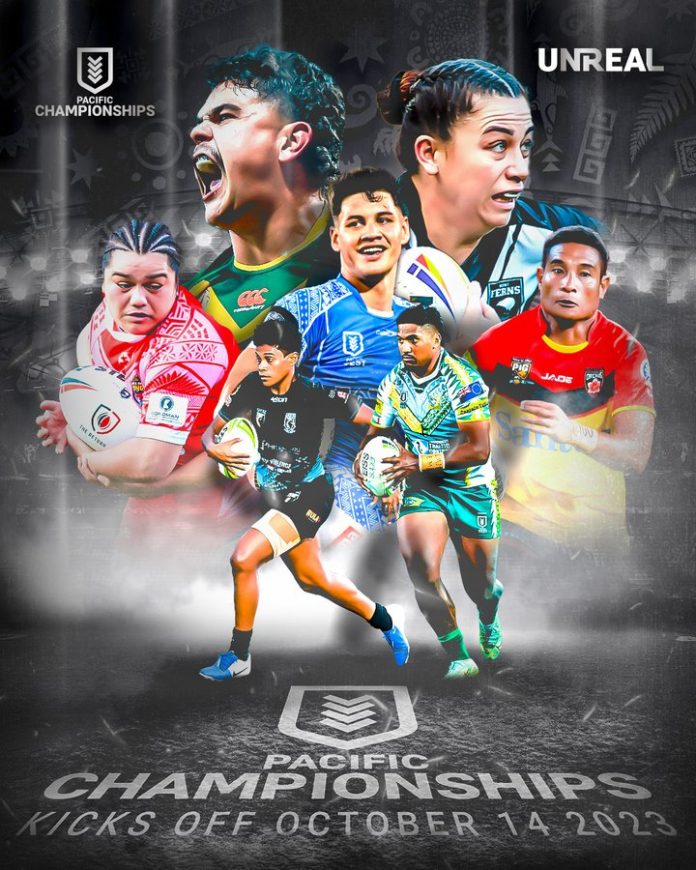 The Australian Government is partnering with the National Rugby League to establish the new Pacific Rugby League Championships.
The inaugural Pacific Championships will feature women's and men's teams from Australia, Cook Islands, Fiji, New Zealand, Papua New Guinea, Samoa, and Tonga.
The Government is committing $7 million (US$4.5 million) over the next two years so that seven Pacific countries are included in the Championships and for games to be played in Papua New Guinea and Fiji as well as Australia and New Zealand.
The Pacific shares a passion for rugby league. These Championships recognise a desire from Pacific rugby league communities for increased elite-level competition, played in the Pacific, for Pacific audiences.
The competition builds on Australia's long-standing support for developing sporting excellence in our region, particularly in rugby league, strengthening the Pacific family.
It will deliver high-performance pathways for Pacific athletes, coaches, referees and administrators, and continue to build the viability of sport in the region.
Games will be played in Australia, New Zealand and Papua New Guinea this year, with the 2023 tournament scheduled to take place from Saturday 14 October 2023 to Sunday5 November 2023.
Papua New Guinea, New Zealand and Australia will co-host the tournament this year and Fiji will co-host the competition with Australia in 2024.
"The Pacific Championships mark the beginning of an exciting new phase of international rugby league competition in the Pacific for both women and men.
"Geography makes us neighbours, but through sport we build strong and lasting ties across the Pacific family," said Prime Minister Anthony Albanese.
Minister for International Development and the Pacific Pat Conroy said: "Given around half the players in the NRL are of Pasifika heritage, and our shared love of sport, this Competition will bring people from across the Pacific even closer together.
"The Championships will provide a new opportunity for athletes in the Pacific to play and develop professionally, and will inspire a generation of girls and boys across our region."
ARLC Commissioner Kate Jones said: "The Commission's focus on growing the international game will combine with an equally strong desire to grow rugby league in the Pacific.
"Importantly, the international matches will be highlighted by both men's and women's matches," she said.
NZRL CEO Greg Peters said: "To bring the best players in the world back home to play in front of their communities is special.
"International rugby league is in an exciting new era, and we are privileged in New Zealand to witness first-hand how much this game means to our Māori and Pasifika communities.
"No other code can produce such celebrations of culture and passion; the Eden Park and Waikato atmospheres will be unmissable."
Tickets for matches in Australia will be released in September.
Six men's teams and seven women's teams will take part in the 2023 tournament across two pools, which will begin on October 14. The men's tournaments will culminate in finals in Hamilton, New Zealand, and Port Moresby on November 4-5.
The 2023 Championships will include two match days in Australia, two in New Zealand and four in Papua New Guinea (PNG).
Week One – October 14-15
*Australia v Samoa (men) at Queensland Country Bank Stadium, Townsville
*Australia v New Zealand (women) at Queensland Country Bank Stadium Townsville
*PNG v Cook Islands (men) at Santos Stadium, Port Moresby
*Samoa v Fiji (women) at Santos Stadium, Port Moresby
Week Two – October 21-22
*New Zealand v Samoa (men) at Eden Park, Auckland
*New Zealand v Tonga (women) at Eden Park, Auckland
* Fiji v Cook Islands (men) at Santos Stadium, Port Moresby
* PNG v Cook Islands (women) at Santos Stadium, Port Moresby
Week Three – October 28-29
*Australia v New Zealand (men) at AAMI Park, Melbourne
*Australia v New Zealand (women) at AAMI Park, Melbourne
* PNG v Fiji (men) at Santos Stadium, Port Moresby
Week Four – November 4-5
The Final of the men's Pacific Cup tournament on November 4 in Hamilton, New Zealand
The Final of the men's Pacific Bowl tournament on November 5 at Santos Stadium, Port Moresby
SOURCE: AUST GOVT/PACNEWS