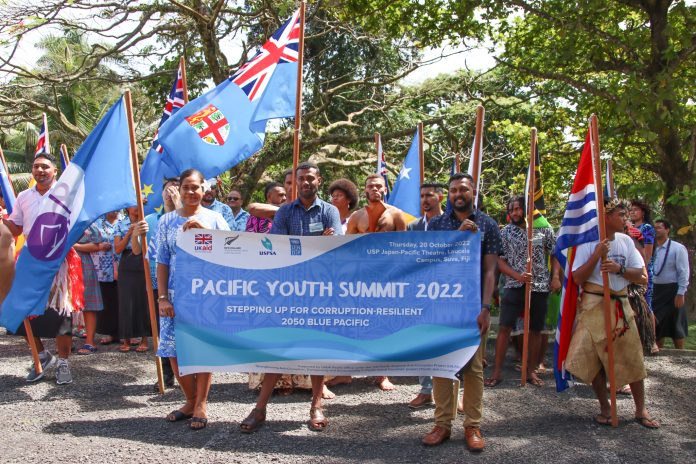 By SONJA STEFANOVSKA-TRAJANOSKA, Anti-Corruption Adviser, UNDP Pacific Office in Fiji
Challenges We Face
Today, the world is grappling with a severe climate crisis that is causing devastating weather conditions in many parts of the world. The Pacific region is in the front line of this crisis and many Pacific Islands countries have experienced the destructive impact of climate change directly.
Today, young people are also more concerned about the future of the planet and their own well-being than previous generations. They know that the climate crisis is depriving them of education, shelter, food, security and more, with some already forced into dire situations.
To tackle these challenges and ensure that no one is left behind in achieving the Sustainable Development Goals (SDGs) various innovations, strategies, frameworks, commitments and funds have been developed. However, corruption remains one the most significant obstacles that undermines efforts and slows progress.
Costs of Corruption
The impact of corruption is staggering, with the UN Secretary-General citing estimates from the World Economic Forum that corruption costs at least US$2.6 trillion, equivalent to 5 percent of global gross domestic product (GDP).
To put this figure into perspective, corruption in health systems contributes to approximately 1.6 percent of deaths among children under the age of five, amounting to over 140,000 deaths each year. Furthermore, out of the annual US$ 7.5 trillion spent on health globally, an alarming US$ 500 billion is lost due to corruption.
Needless to say, the consequences of corruption extend beyond the health sector. In the fight against climate change, somewhere between 1.4 and 35 percent of climate action funds are lost to corrupt practices.
These shocking numbers underscore the urgent need to address corruption effectively. It not only hinders economic growth and sustainable development but also jeopardizes critical sectors like healthcare and climate action, impacting lives and the planet as a whole.
UNDP's Partnership with Youth
As part of its commitment to promoting good governance and a whole-of-society approach to combating corruption, UNDP is working with young people in the Pacific region. Building on increasing youth demand for influence and empowerment in decision-making, UNDP support has focused on addressing priority concerns, including the impact of corruption on climate action and gender equality.
The past two years have seen significant achievements in the Pacific youth anti-corruption movement. Harnessing the power of networking among students, the partnership with UNDP resulted in the Pacific Youth Summit in 2021 and 2022. These events brought together more than 5,000 students from the University of the South Pacific's regional campuses to discuss issues affecting their future, with a focus on integrity, anti-corruption and good governance.
Youth aspirations for resilient and sustainable development also resulted in the collective 'Youth Vision for a Corruption-Resilient 2050 Blue Pacific' policy commitment. This Vision has resonated globally including at a prominent global anti-corruption conference in Washington D.C. in December 2022.
To transform this youth commitment into action, students advocating for the Youth Vision started a dialogue with the Pacific Islands Forum (PIF), a regional inter-governmental body, arguing for their collective voice to be heard by political leaders at the regional level. To better structure this cooperation, Pacific youth inaugurated a regional Youth Advisory Board on Governance in May 2023.
The new Board will enhance the policy and decision-making influence of students and young people across the Pacific. It will work closely not only with PIF but also with other members of the Council of Regional Organisations in the Pacific (CROP) to employ dialogues, events and advocacy to expand youth engagement in good governance. Specifically, the Board will support regional policy commitments, including the Teieniwa Pacific Unity against Corruption Vision and the 2050 Blue Pacific Strategy.
Working Together
As the climate crisis intensifies, we cannot afford to waste time and resources on corruption. If we are to achieve the 17 SDGs, the voice of youth must be heard and their collaboration in promoting good governance must be boosted.
On United Nations International Youth Day on 12th August, let us congratulate and celebrate the remarkable achievements of Pacific youth. Their innovative approach to engaging with the good governance agenda exemplifies the power of #YouthLead.
The theme of 2030 Youth Day is 'Green Skills for Youth: Towards a Sustainable World'. These green skills encompass the knowledge, abilities, values and attitudes required to thrive in, develop and support a sustainable and resource-efficient society. A critical one is the determination and ability to fight corruption.
Together, by fostering youth participation and building a sustainable future, we can address today's pressing challenges and pave the way towards a brighter and more equitable world for everyone alive today, and for generations to come.
SOURCE: UNDP/PACNEWS