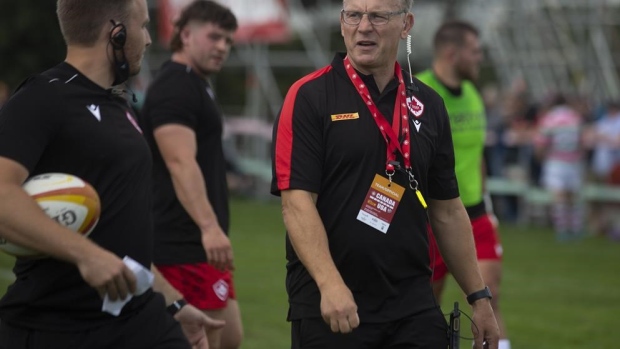 Canada coach Kingsley Jones has made three changes to his starting lineup for Monday's rugby test match with Tonga.
The 23rd-ranked Canadian men lost 28-3 to the 15th-ranked Pacific Islanders in the opening test last Wednesday in the Tongan capital of Nuku'alofa.
Sion Parry, who won his first cap off the bench in the first Tonga match, starts at openside flanker with Lucas Rumball shifting to the blindside and Mason Flesch dropping to the bench.
Parry, who plays in his native Wales for Pontypridd, qualifies for Canada through his Ontario-born mother.
Jason Higgins replaces Ross Braude at scrum half and Mitch Richardson steps in for the injured Ben LeSage at centre.
LeSage was left dazed early in the second half Wednesday by a dangerous tackle that resulted in the ejection of former All Black George Moala.
Former UVic fullback/fly half Gabe Casey, a third-round pick of the Toronto Arrows in the 2022 Major League Rugby draft, could earn his first cap off the bench.
"This will be another physical challenge, but I am looking forward to seeing how much we can improve upon last match, which was our first match as a team in almost 10 months," Jones, whose late father Phil Kingsley Jones once coached Tonga, said in a statement. "We were pleased with a lot of the aspects of the last game. We did a lot of things well, it's not often you get statistics of 58 per cent possession and 58 per cent territory.
"Our challenge is to improve our accuracy and finish those hard earned opportunities this Tuesday."
Canada's matchday 23 includes seven members of the MLR-champion New England Free Jacks, with five in the starting 15 and two on the bench. There are also six Arrows, including three starters.
The game at Teufaiva Stadium kicks off at 3 pm local time Tuesday.
Before travelling to Tonga, Canada held a 12-day training camp in Nadi, Fiji, which included a closed training scrimmage with the Fijian Drua academy.
The games in Tonga are the first for Canada, which failed to qualify for the World Cup for the first time ever, since a 43-37 loss to No. 21 Namibia in November.
Tonga is gearing up for next month's World Cup in France where it will face No. 1 Ireland, No. 4 South Africa, No. 5 Scotland and No. 19 Romania in a tough Group B.
Tonga has benefited from a recent World Rugby rule change allowing players who have not represented their country in three years to switch to the country of their birth, or of their parents' or grandparents' birth.
Tonga, known as the Ikale Tahi (Sea Eagles), finished last at the four-team Pacific Nations Cup, which ran July 22 through Saturday, losing 36-20 to No. 10 Fiji, 21-16 to No. 14 Japan and 34-9 to No. 12 Samoa.
Before that, the Tongans defeated Australia 'A' 27-21 in Nuku'alofa in their first match on home soil since 2017.
Canada's record against Tonga now stands at 5-5-0, with the Pacific Islanders winning the last three meetings. Canada has not won against Tonga since a chippy 36-27 decision in Kingston, Ontario in June 2013.
Canada Roster: Liam Murray, Langley, B.C., Dallas Jackals (MLR); Andrew Quattrin, Holland Landing, Ont., New England Free Jacks (MLR); Conor Young, Yamba, Australia, New England Free Jacks (MLR); Izzak Kelly, White Rock, B.C., Spotswood United RFC (New Zealand); Conor Keys, Stittsville, Ont., New England Free Jacks (MLR); Lucas Rumball, Toronto, Toronto Arrows (MLR); Sion Parry, Cardiff, Wales, Pontypridd RFC (Wales); Siaki Vikilani, Vancouver, American Raptors (Super Rugby Americas); Jason Higgins, Cork, Ireland, San Diego Legion (MLR); Robbie Povey, Northampton, England, Houston SaberCats (MLR); Isaac Olson, Vernon, B.C., New England Free Jacks (MLR); Spencer Jones, Cambridge, New Zealand, New England Free Jacks (MLR); Mitch Richardson, Stoney Creek, Ont., Toronto Arrows (MLR); Kainoa Lloyd, Mississauga, Ont., Houston SaberCats (MLR); Peter Nelson, Dungannon, Northern Ireland, Toronto Arrows (MLR).
Replacements: Foster Dewitt, Courtney, B.C., New England Free Jacks (MLR); Djustice Sears-Duru, Oakville, Ont., San Diego Legion (MLR); Cole Keith, Apohaqui, N.B., New England Free Jacks (MLR); Piers Von Dadelszen, Vancouver, Oxford University; Mason Flesch, Cobourg, Ont., Toronto Arrows (MLR); Travis Larsen, Parksville, B.C., Toronto Arrows (MLR); Ross Braude, Pretoria, South Africa, Toronto Arrows (MLR); Gabe Casey, Ottawa, University of Victoria
SOURCE: CANADA PRESS/PACNEWS