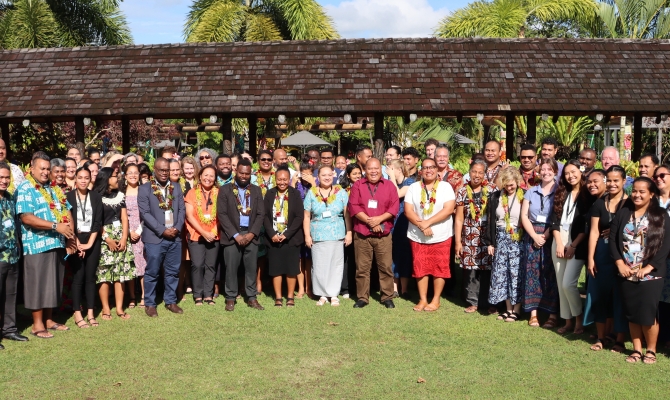 The reports from the Intergovernmental Panel on Climate Change (IPCC), the world's most authoritative sources of climate science approved by 195 countries, reaffirms the reality that Pacific countries are already dealing with Loss and Damage (L&D) from climate change impacts.
These impacts include slow onset events such as sea level rise and biodiversity loss or those caused from extreme events such as cyclones, floods and heatwaves.
During COP27 in Sharm el-Sheikh Egypt in 2022, the decision to establish new loss and damage funding arrangements, including a fund for Loss and Damage, was noted as the most significant development on the topic, since 1991 when the Alliance of Small Island States (AOSIS) first called for a mechanism that would compensate countries affected by sea level rise.
In Apia Samoa, the Secretariat of the Pacific Regional Environment Programme (SPREP) and Climate Analytics are hosting the Pacific Loss and Damage Dialogue from 17 – 19 July 2023. The Dialogue brings together government, civil society, academia, NGOs and the private sector to collectively discuss experiences with loss and damage in the Pacific and options to address loss and damage in the region.
At the opening, Minister for Climate Change of Vanuatu, Ralph Regenvanu, who is also the Pacific's new Political Champion for L&D, said the three-day gathering provides an opportunity to discuss solutions that are fit for purpose and meet the needs of Pacific countries.
He reminded that Pacific people are increasingly suffering loss and damage from superstorms breaking records each year, sea level rise eating away villages and arable land, ocean acidification dissolving our reefs, increasing sea surface temperatures bleaching our corals and sea grasses, landslides that erase entire villages and plantations and flooding that destroys urban infrastructure among other impacts.
"Although we have long been calling for action, Loss & Damage has only now taken centre stage in the global efforts to address the existential issue of Climate Change. For more than five decades, science has been providing stark warnings about the chemical and physical consequences of greenhouse gas emissions," Minister Regenvanu said.
"Sadly, the short sighted and economically driven policies of many States meant that little heed was paid to the steps required to avert the climate emergency. Inadequate action and support was mobilized by responsible parties to minimize growing impacts here in the islands, and levels of adaptation are now woefully insufficient."
Minister Regenvanu said as conversations progress around Loss and Damage, it is important that Pacific voices are at the centre of the discussion.
SPREP's Director General, Sefanaia Nawadra agrees and said that while discussions on L&D are ongoing, it is important to still address the issue of increased climate ambition especially mitigation and meeting commitments.
"Other parts of the world are now feeling climate change impacts we have been feeling for some time. There are heat waves and forest fires in Europe and North America, there is flooding in Asia. The flooding in Pakistan was a factor in L&D being accepted at COP 27 so hopefully this shared experience will help us move forward on L&D and address underlying cause of climate change."
Since COP27, SPREP, the OneCROP and Climate Analytics have undertaken a suite of technical workshops and meetings related to Loss and Damage. The Dialogue in Apia is the latest in ongoing work building towards COP28 in Dubai.
"The work we undertake in the lead up to COP28 continues here, and that the next three days is our opportunity for in-depth dialogue amongst peers with common goals, and shared priorities," said Nawadra. "As we again come together as representatives of our peoples and our region, let us not waiver in our efforts but find strength through unity to drive forward the momentum for enhancing the resilience of our people, strengthening the resilience of our region, and in doing so lead in saving the world."
The Pacific Loss and Damage Dialogue hopes to provide a platform for open and informed discussion amongst the Pacific community about loss and damage, the impacts that are already being felt and the long-term needs of the region. It will also, among other things, determine the Pacific's position on the issue at COP28.
It is being attended by the Cook Islands, Federated States of Micronesia, Fiji, Kiribati, Nauru, Niue, Palau, Papua New Guinea, Republic of Marshall Islands, Samoa, Solomon Islands, Tuvalu and Vanuatu.
SOURCE: SPREP/PACNEWS