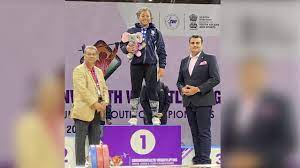 Weighting Fiji has managed to win another two medals at the Commonwealth Weightlifting Championship in Delhi, India.
Leyna-May Domonatani won a gold and bronze medal Monday.
Fiji weightlifiting coach Henry Elder says Domonatani claimed gold in the junior event and bronze in the senior division.
Fiji won its first gold medal through Taniela Rainibogi.
Rainibogi snatched 163kg and 200kg in the clean and jerk for a new total of 263kg.
Nehemiah Elder earlier claimed Fiji's first medal after settling for silver while Miriama Taletawa won a bronze medal in the Junior division of the 71kg.
The team's trip to India is fully funded by the Australian Government.
SOURCE: FBC SPORTS/PACNEWS