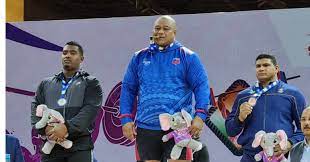 Two more gold medals have been claimed by Samoa's champion weightlifting team at the Commonwealth Championship in Delhi in India.
Sanele Mao claimed the other gold in the Men's 109 +kg division while powerhouse woman lifter Iuniarra Sipaia claimed the other. The latest additions mean Team Samoa has now claimed four golds at the championship.
Coach Tuaopepe Jerry Wallwork told the Samoa Observer that Sanele Mao came in too strong in his division claiming a much-anticipated gold for the team and the country.
"Sanele Mao was too strong for the Men's 109+kg. Thank you Samoa for your support," he said.
While Iuniarra, who lifted in the same women's division as Lesila Fiapule who claimed silver for Samoa, both dominated the women's 87+kg division at the Championships and this is not the first time the pair dominated.
They did the same at the Pacific Mini Games in Saipan last year.
Tuaopepe clarified that Iuniarra is making quite a return as she was one of three lifters who qualified for the Olympics in Tokyo but due to Covid19 restrictions, the team withdrew from the competition.
And Vaipava Nevo Ioane claimed the first gold for Samoa together with Samoa's golden boy, Don Opeloge who claimed the second gold medal last week.
According to the Indian language daily Deccan Herald, Opeloge broke the Commonwealth records in snatch (172kg), clean and jerk (207kg) as well as the total weight lifted (379kg) in the men's 102kg weight class and was in a class of his own.
He lifted a whopping 44kg more than India's Harcharan Singh, who won the silver medal with a total effort of 335kg (152kg+183kg).
SOURCE: SAMOA OBSERVER/PACNEWS