The people of the Marshall Islands have been celebrated in a special anniversary event at the Forum Secretariat Monday.
Opening the 44th anniversary of the 01 May independence of the Marshall islands from the USA, the Forum Secretary General Henry Puna began by congratulating the recent appointment of Junior Aini, Ambassador of the Republic of the Marshall Islands, to Suva Fiji.
"Today, the 1st of May 2023, marks an important event for us at the Secretariat and more so for the Republic of the Marshall Islands as we celebrate the 44th national Constitution Day, also known as Jemenei Day, of the Republic of the Marshall Islands," SG Puna said, "It is more special for us here at the Secretariat to have you, Excellency, Ambassador Junior Aini and the staff of your Embassy to share this joyous occasion with me and our PIFS staff."
The Forum team makes a point of celebrating all the national days of all the members across the region, in a staff morning tea attended by members of the diplomatic corps.
SG Puna made special mention at today's event of the Marshallese Students Association at USP, who were also VIP guests at the morning tea.
"I wish to also extend my warm welcome to the Marshallese students studying at USP who have joined us today to celebrate this special occasion. Kommol tata for caring and showing pride in your country! I also want to recognise the outstanding activism and ownership of the students of the Marshall Islands in reminding us of the Pacific nuclear legacy—concerns over nuclear issues and stewardship of our ocean were a founding tenet of the Pacific Islands Forum more than five decades ago," he said, adding ,"01 May also allows the people and governments of the Marshall Islands and the U.S.A. to celebrate their historic friendship and tied which have endured after the Islands secured independence from the USA. We must recognise, that gaining independence is not always an easy choice. It takes courage, will and real desire to be on one's own two feet and I am proud the Marshallese voted for their independence by referendum and drafted a new constitution for themselves."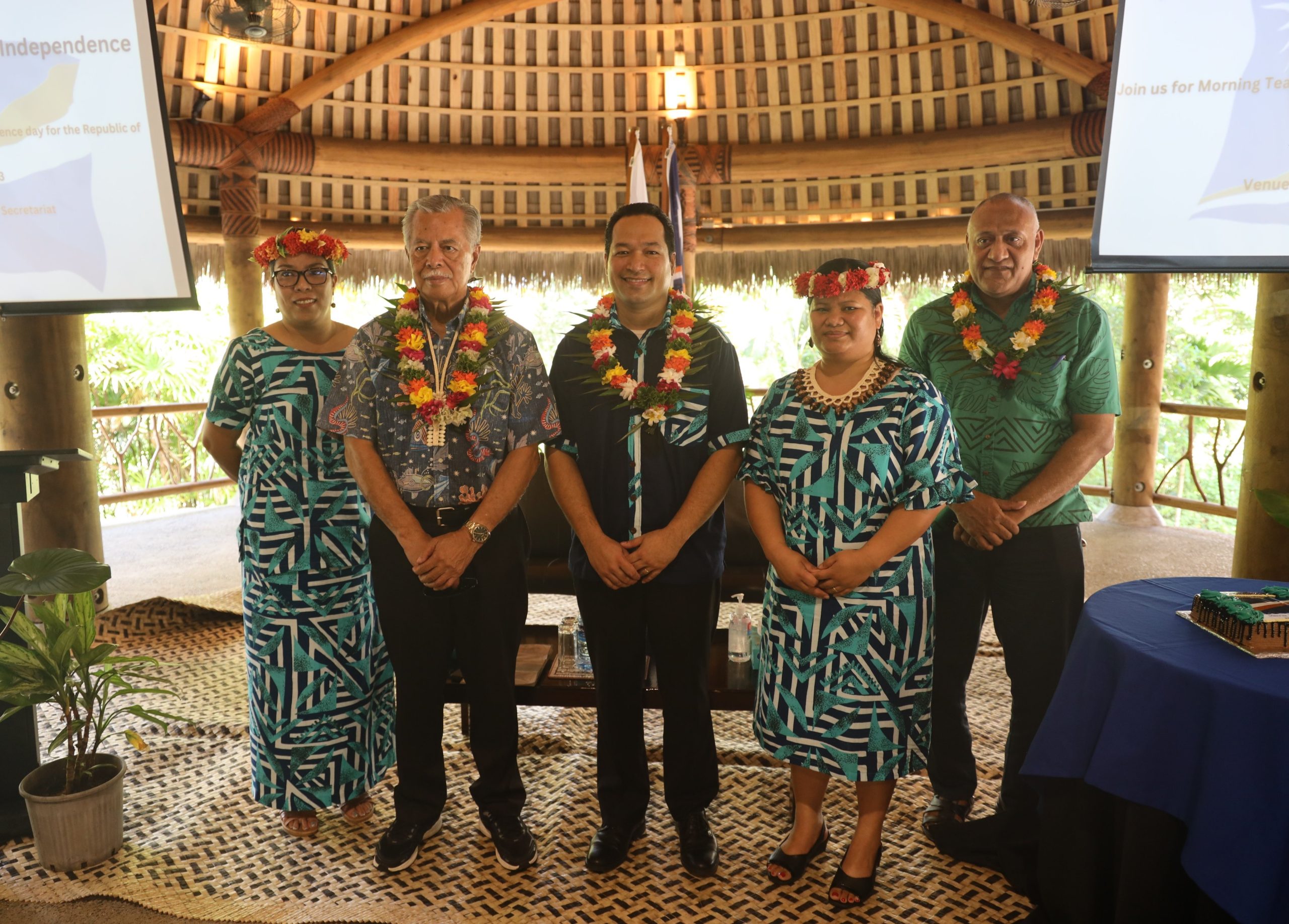 SG Puna also noted the role of the U.S in respecting the new status of the Marshall Islands in the political sphere, the constitution of the Marshall Islands and the establishment of a new Government of the Republic of the Marshall Islands.
"We must never forget this, the will of the Marshallese people to attain their independence. This will and determination stands out across our Pacific history. It has seen the Marshall Islands delegations play key pivotal roles in multilateral negotiations on climate, on tuna, and on oceans, to name a few," he said.
"Today as we remember the impact of your leaders across all spheres, past and present, we also recognise the sacrifices and resilience of the generations who withstood the horrific nuclear tests that harmed your islands and your people, and continue to threaten our shared ocean habitat, today. Your ability to remain standing and resilient, to raise your voice and ensure that history never repeats what happened to you, is an inspiration to all other members of the Forum within our Blue Pacific continent. Once again, my sincere congratulations on your 44th independence and it is my fervent wish that you have many more years of prosperity, security, and good fortune ahead."
SG Puna ended his introduction by recalling the words of RMI President David Kabua: "The true essence of the 'Pacific Way' is purposeful unifying action for the common good, building bridges of understanding, nurturing strong bonds of friendship and goodwill, and peaceful coexistence among people and nations."
SOURCE: PACNEWS