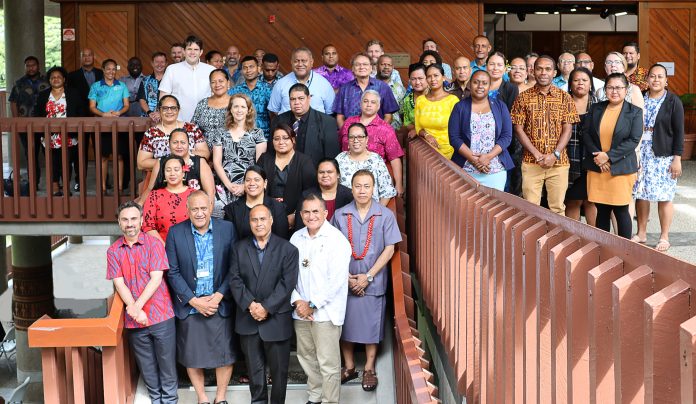 "Climate change is our gravest concern and we continue to observe on an annual basis how this affects our region," says Forum Deputy Secretary General Dr Filimon Manoni.
Addressing the Forum Officials Subcommittee on Regional Security Tuesday, Dr Manoni said we now live in a highly complex world where layers of uncertainty are stacking up and interacting to unsettle our lives in unprecedented ways.
"Vanuatu is still in a state of emergency after two Category 4 cyclones and two earthquakes battered the island nation in March.
"In February, New Zealand declared a state of emergency after Cyclone Gabrielle battered the country earlier this year, this is only the third time that the country had declared a state of emergency. Cyclone Gabrielle is the most significant weather event New Zealand has seen this century, the severity and the damage observed, not experienced in a generation.
"In June last year, Kiribati declared a state of emergency after the discovery of high salinity levels in monitoring wells and very low rainfall causing severe drought within the country," Dr Manoni told officials.
He said while the region is currently recovering from the COVID-19 pandemic, its impact continues to significantly affect the region, in particular its disproportionate impact on vulnerable communities.
"Geopolitical competition continues to significantly complicate our relationships as members and partners of the Forum family.
"On the global stage, the impact of the Russian invasion of Ukraine continues to affect the cost of living around the world, and within the Forum region.
"Having said that, this is not the first time that our Pacific peoples have faced environmental disruptions, diseases and wars.
"In fact, our Pacific history is one of resilience containing some of the world's most vulnerable countries to the human and economic devastation of natural and man-made emergencies.
There is so much to learn from, from our collective journey over the last fifty years, to shape how we take on the future that lies ahead of us," he said.
At the Leaders' meeting in July 2022, Forum Leaders "noted that the region continues to be a highly contested sphere of interest, in a wider geopolitical setting with external powers seeking to assert their own interests. In the current strategic context, Leaders recognised the importance of remaining unified as a Forum family to address common challenges and to capitalise on key opportunities".
"In February, we officially welcomed back Kiribati to the Forum family. This reflects the value Members place on unity and regional solidarity as a foundation for how we are going to traverse the uncertain complex future we face.
"The manner in which the global and regional community came together to respond to COVID-19 is an extraordinary achievement. Vaccines were produced in record times based on revolutionary technology; and in the region, the opening of a pathway to strengthen regional and national preparedness and response efforts was unprecedented.
"At the same time, the pandemic is also a painful reminder of how breakdowns in trust and communication can constrain our progress in addressing the issues we face today, Dr Manoni said.
While the clouds on the horizon may sometimes appear dark, I am positive that if we continue to collectively work as one united region, that we can build a better future for our Pacific peoples, he said.
"I encourage your full participation and contribution to the issues before you all today to ensure that Members continue to drive and lead our collective security efforts.
"I also appreciate ongoing efforts to bring all regional security agencies together to share with you their work at this meeting. It ensures that our priorities are aligned and further places emphasis on regional solidarity as our way forward.
With the 2050 Strategy for the Blue Pacific Continent as our North star, and ongoing efforts to address our collective security issues, I have no doubt that we are heading in the right direction to ensuring that we have a peaceful, safe and secure region," he said.
SOURCE: PACNEWS