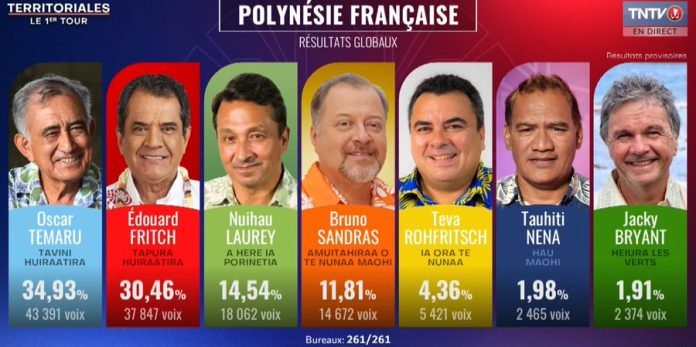 French Polynesia's pro-independence Tavini Huiraatira party has come out on top in the first round of the territorial elections.
The party, led by Oscar Temaru, won almost 35 percent of the votes, beating the ruling Tapura Huiraatira party of Edouard Fritch, which obtained 30 percent.
The recently formed A Here Ia Porinetia was the only other party to clear the 12.5 percent threshold to make it to the run-off round in two weeks.
The other four lists are eliminated, including Amuitahiraa O Te Nunaa Maohi, which is the renamed Tahoeraa Huiraatira party founded by the veteran politician Gaston Flosse.
For the first time, the Tavini won most votes in several large towns in Tahiti, including Papeete, and dominated in Moorea.
With 35 percent of the votes, it substantially improved its first-round result from the elections in 2018 when it won 20 percent.
The results show a sharp drop in support for the Tapura, which in 2018 won 43 percent of the votes.
The Tahoeraa, which in 2018 won 29 percent, plummeted to less than 12 percent and will no longer be in the assembly.
In the elections' second round, on April 30, the list winning most votes will get a third of all seats as a bonus, which assures it an absolute majority.
The remaining two thirds of the seats will then be distributed according to the three lists' relative strength.
The system was reintroduced by France in 2011 after nearly a decade of political instability.
In 2018, the Tapura won less than half of the votes but because of the bonus clause it obtained two thirds of the 57 seats.
While Fritch has said he will seek re-election as president in May, Tavini's Oscar Temaru will not contest the top job despite heading the Tavini list.
The party has said it will nominate as its candidate Moetai Brotherson, who is a member of both the French Polynesian Assembly and the French National Assembly.
SOURCE: RNZ PACIFIC/PACNEWS