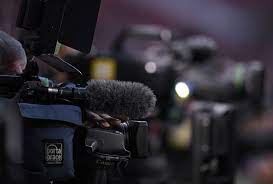 Broadcasting rights for the Solomon Islands 2023 Pacific Games are set to be distributed among member countries instead of being awarded to a single company.
Pacific Games Council chief executive Andrew Minogue claims the Games' Organising Committee would produce the programmes and share it out among select broadcasters in select countries.
"We have basically settled on a model that is like the traditional model that we've employed in previous Games where the Organising Committee will sort of put it all together in-house and then contract with different regional broadcasters, for example, Fiji TV in Fiji or France Television for the French territories," Minogue said
"The Organising Committee puts together a host broadcast plan in terms of how they would like to deliver the host broadcast services and they would do that effectively with our blessings.
"They will issue the contracts to the host broadcast organisation, to the other regional broadcasters that might contribute to the production.
"But that has to be approved by the Pacific Games Council.
"That's the process that we've gone through with Solomon Islands.
2There's been the tender process, the evaluation of tender because there have been different bidders."
He stated that the decision on broadcasting is for the Council to make as it owns the rights and the Games themselves.
The Council hopes that the International Olympic Committee's Olympic Channel will help in boosting the Games' reach globally.
Although no agreement has been made with Solomon Islands Broadcasting Company (SIBC), Minogue insists it will also have a role in the Games.
"There will be a role for them," Minogue said.
"There's certainly been a big part of the discussions that we've had with the Organising Committee.
"And no agreements have been signed yet but our expectation is that SIBC will have the domestic rights in Solomon Islands to broadcast the games internally.
"But they're not the organisation that will be the host broadcaster of the entire Games.
"We always try and keep that separate from a local broadcaster."
Solomon Islands is set to host the continental event for the first time from 19 November to 02 December.
SOURCE: INSIDE THE GAMES/PACNEWS