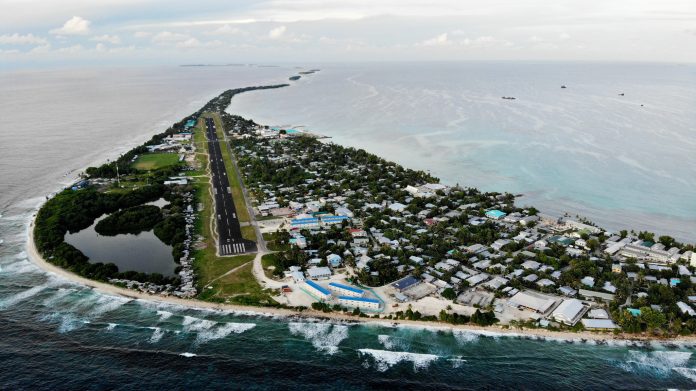 Tuvalu's athletes have been training in an unusual place to prepare for the Birmingham 2022 Commonwealth Games – the country's international airport.
Space in the Pacific island nation is at a premium, and with only one flight currently arriving a fortnight the locals have come up with an innovative solution.
"At the moment we are using our runway," said Tuvalu's Chef de Mission Tala Simeti.
"It's the biggest open space we have on the mainland, so we are using that for outdoor games.
"We have quite a long runway and every afternoon it's overcrowded with people doing all sorts of sports."
Funafuti, Tuvalu's main island and capital, is a tiny ring-shaped coral atoll, which is in severe danger due to rising sea levels.
At its narrowest point, the distance across the island is just 20 metres, barely the width of the road.
It is easy to see both sides of Funafuti – the Pacific Ocean and the lagoon which the island encircles – at the same time.
The widest point across is only around 400m, or one lap of the track at Birmingham's Alexander Stadium.
Tuvalu's total land area is just 10 square miles, while the population is around 12,000.
"One of the issues we have is our size," said Simeti, who is set to oversee a team of six athletes in Birmingham.
"We have a very small land area and to build up sports infrastructure is quite a challenge.
"We don't have the resources. If we are to build a complex where we can accommodate sports, I don't think the Government has the resources to fund that."
Weightlifters from Tuvalu are currently training among breadfruit trees.
"They don't have a proper gym," Simeti said.
"When it's high tide they don't have a proper training facility. It's a big issue for them."
A national stadium – the Tuvalu Sports Ground – backs onto the runway and players have been known to warm up there.
"It's basically just an open space where they play football and rugby," said Simeti.
Tuvalu is on the frontline of the climate change crisis and its leaders spoke passionately at the COP26 conference in Glasgow last year.
Foreign Minister Simon Kofe recorded a video from the ocean, while wearing a suit with his trouser legs rolled up, to highlight that Funafuti is sinking.
Scientists have warned that Tuvalu faces being completely wiped off the map.
"Right now people are concerned about climate change," said Simeti.
"The Government is trying their best to see if they can convince other international leaders to mitigate their carbon emissions.
"You speak to some people and you can see fear in them.
"Maybe they are not fearing for themselves, maybe they are fearing for the future, their children and their grandchildren.
"I think the only tourists we get are people who want to experience the impact of climate change."
Simeti is not from Funafuti but one of the outer islands.
"Some smaller islands have disappeared and are submerged underwater," he said.
"When it's high tide, it goes all the way up to the main road.
"You can't even plant your vegetables so it affects food security as well."
Tuvalu will be sending a men's beach volleyball team to Birmingham, and will also be represented in athletics and boxing.
The country's isolation means it is remarkably yet to record a single case of COVID-19.
As a result the coronavirus precautions which will be in place in Birmingham – and things like mask wearing which have become common across the world – will take getting used to for the Tuvalu squad.
Despite avoiding the pandemic so far, the Government is taking no chances and has introduced measures such as the restriction of flights to once a fortnight.
This has had a knock-on effect on the team's travel plans.
Two officials who attended the Oceania National Olympic Committees General Assembly in Fiji this month have stayed in the country and will not return home until after the Commonwealth Games.
"The fact that flights come in and out of Tuvalu once every two weeks, they are better off staying in Fiji and doing some work, rather than coming back here which is costly for us," said Simeti.
"We'll be heading first to the Pacific Mini Games [in Saipan in June] and then off to Birmingham"
Two boxers are also already in Australia, and will be heading from there to England.
Staying away from home for so long means obvious sacrifices, but the lure of the Games is strong.
"This is a 'once in a while' opportunity so why not make use of it?" Simeti said.
"To get the chance to represent your country in the Commonwealth Games is a privilege."
Simeti is serving as Chef de Mission for the first time and is the secretary of Tuvalu's boxing association.
"We have a ring made of wood," he said. "We improvise.
"We don't have the proper ring, but we have the ropes and some mats.
"We have a few boxing gloves and other stuff."
Another role Simeti has held is President of the Tuvalu National Football Association. The country has so far been rejected in its bid to join FIFA, due to its perceived small stature and lack of infrastructure.
"We don't have a lot of athletes here so one can play football and play volleyball and play rugby, and all sort of sports," said Simeti. "It's multi-talented.".
The Queen's Baton Relay was taken to some of Tuvalu's different islands, as well as schools and the governor general's residence.
However, the two-day celebration was cut down to just one due to COVID-19 precautions, and on that day it rained.
The country first competed at the Commonwealth Games in Kuala Lumpur in 1998, and has been ever-present since without winning a medal.
The first Olympic appearance came in Beijing in 2008, and two sprinters took part at the rearranged Tokyo 2020 Games last year.
Karalo Maibuca set a national record of 11.42sec in the men's 100 metres in Japan, while Matie Stanley competed in the women's 100m.
Tuvalu do not expect to trouble the podium in Birmingham but they are looking towards the future.
"We are bringing with us a lot of new athletes to expose them to that level of competition and start building from there," said Simeti, who has spent some time in Birmingham before.
"It will be an exciting Games," said Simeti.
SOURCE: INSIDE THE GAMES/PACNEWS