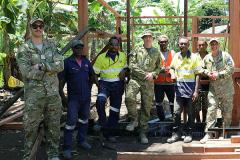 New Zealand Defence Force (NZDF) support to the Australian-led Solomon Islands International Assistance Force (SIAF) will continue with the deployment of four more personnel, replacing the most recent contingent who have returned to New Zealand.
SIAF was stood up after a request for support from the Solomon Islands Government in November 2021 following a period of civil unrest.
Completing the six month tour is Major Gareth Collings, Warrant Officer Class 2 Lawrence Colvin, Lieutenant Mitchell Berryman and Lieutenant Hamish Finlayson who have worked with the Australian Defence Force (ADF), Australian Federal Police (AFP) and Royal Solomon Islands Police Force (RSIPF) during their deployment.
Major Collings, a veteran of Bougainville, Afghanistan and Iraq, held the role of operations officer responsible for the planning and delivery of activities for the multinational team. He said he's found his time with SIAF very rewarding.
"We have worked hard to create positive engagement opportunities with local communities, and have implemented some low level, quick impact construction tasks that have complemented our security tasks. We have built relationships here and it's great that we're seen in the communities as Pacific neighbours."
With the SIAF led and mostly staffed by Australians, Major Collings said he's enjoyed the Anzac spirit at work
"The Australian officers and soldiers I've worked with here have been motivated, committed and professional. I had the pleasure of working for two ADF Commanding Officers who really respected and maintained the NZDF identity and made us feel as though the NZDF were equal partners in the organisation, despite the disparity in personnel numbers."
Apart from the great weather, Major Collings said his biggest highlight has been working with his Kiwi team.
"I've enjoyed many aspects of this deployment but working with the team of Kiwis here has been the standout. They're hardworking, motivated, all have a great sense of humour and are consummate professionals."
The new Kiwi team in place will be deployed for approximately six months.
SOURCE: NZDF/PACNEWS