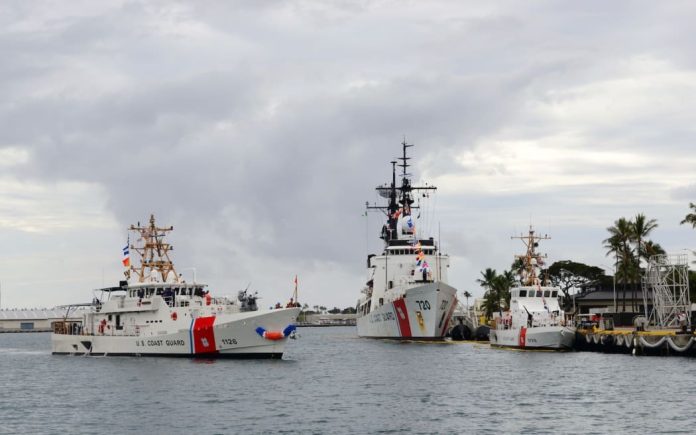 The core mission of the U.S Coast Guard is search and rescue but training in the Pacific region tailored for island nations is also part of the work it carries out in the region.
The Commander of the 14th US Coast Guard district, Rear Admiral Michael Day, is responsible for directing operations throughout Oceania, including Hawaii, Guam, the Northern Mariana Islands, American Samoa, and activities in Singapore and Japan.
"The two biggest areas you see the Coast Guard helping with are search and rescue, it's been a core mission of the Coast Guard for over 200 years. And it's probably what our DNA really is about. The second aspect is illegal unregulated fishing (IUU), helping each of these sovereign nations protect their fisheries," he told RNZ Pacific.
The Coast Guard also provides training to island nations, in response to specific requests to share their expertise: from basic seamanship, navigation and vehicle maintenance to how to carry out boarding operations on foreign vessels, to enforce their fishery rights.
"We really tailor the request to what each island nation needs. And they're all unique, and they're all very different.
"So, we listen to what they put forth. And if we can help and we find more often than not, we are able to supply some training benefit, and then we like to operate with them also."
When asked about people's perception of the Coast Guard, Rear Admiral Day said that while people generally think of the Guard's ships, their operations rely on a systems approach: integrating aircraft, satellites, ships and even small personal equipment, such as locator beacons.
Key assets within that system, particularly in search and rescue operations, are its aviation resources. He noted that given the enormity of the region, aircraft allow for a much greater search capability, particularly the C130 aircraft.
"But you can imagine if a small island perhaps only had one vessel, and they're just searching a vast area for one person in the water, so by using the aircraft we will cover larger ground."
He also commented on the importance of working with regional resources and personnel in a collaborative fashion.
"When, or if, we do find a survivor, we're going to work with that island to vector someone outwith their boat. So it's a very coordinated effort.
"We don't want to be strangers in the middle of a crisis meeting for the first time and talking about how we should be doing things."
Rear Admiral Day also told RNZ Pacific about drug traffic being routed through the Pacific. He noted that the current trend, as revealed by boarding operations, is that smaller vessels and fishing vessels do not appear to be the primary method of drug conveyance. However, the overall trend is for an increase in drug trafficking.
The Coast Guard is also involved in supporting Antarctic research, which takes them through Christchurch, New Zealand.
Rear Admiral Day described the core value of Coast Guard personnel as an inherent willingness to assist others and work collaboratively. Something he described as "not so much a job we have, it's a calling to help people.".
SOURCE: RNZ PACIFIC/PACNEWS