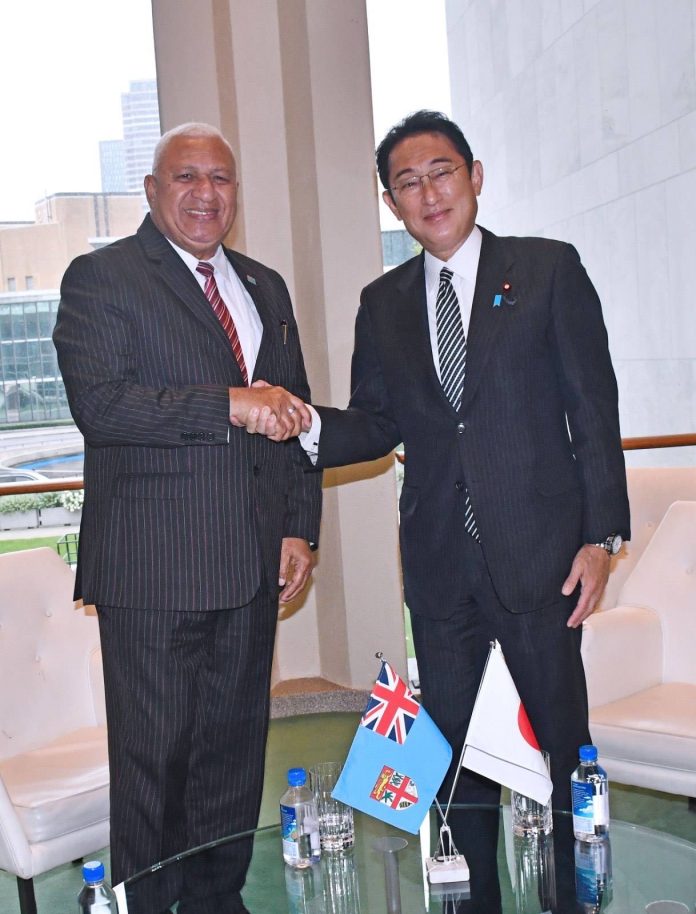 Japan's Prime Minister Kishida Fumio, who is visiting the United States to attend the Review Conference of the Parties to the Treaty on the Non-Proliferation of Nuclear Weapons (NPT), held informal talks with Fijian Prime Minister Voreqe Bainimarama.
During the talks, Prime Minister Kishida expressed his gratitude for the condolence from Prime Minister Bainimarama for passing of the former Prime Minister Abe, and stated to cooperate with Prime Minister Bainimarama towards "a world without nuclear weapons".
Prime Minister Bainimarama expessed his gratitude for Japan's continuous assistance to Fiji in several areas including assistance towards economic recovery from the damage caused by the COVID-19
Bainimarama also pointed out the importance of a "Free and Open Indo-Pacific" and offered his support for it
Prime Minister Kishida stated, with respect to the ALPS Treated Water that Japan took seriously concerns of the Pacific Island countries and would continue to advance its efforts in a transparent manner in accordance with the domestic and international safety standards in cooperation with the international community including the IAEA.
In addition, Prime Minister Kishida showed his respect to the leadership of Prime Minister Bainimarama as the chair of the Pacific Islands Forum (PIF).
The two leaders confirmed that they would continue to cooperate for the further enhancement of the relations between Japan and Fiji as well as Japan and PIF.
SOURCE: JAPAN FOREIGN MINISTRY/PACNEWS