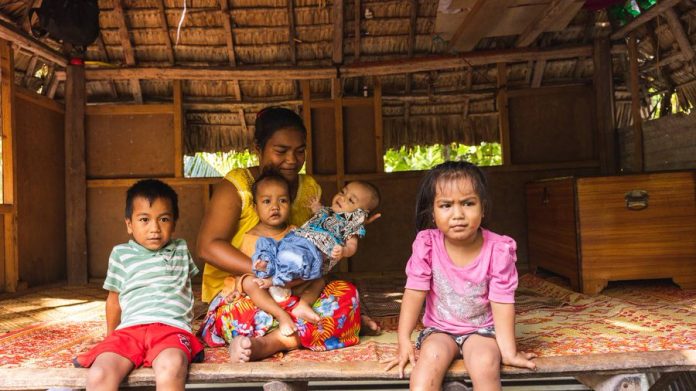 Junior Tooma was only a month old when a deadly disease quickly took over his body – and one his family feared would eventually take his life.
The youngster, his three siblings and their parents live in one of the remotest places in the world in South Tarawa, Kiribati, in the central Pacific Ocean.
The country is made up of 32 atolls and has a population of just over 119,400 people, according to its latest Census in 2020.
Late last year, cases of Rotavirus started to spread throughout their community in Tarawa.
The disease is a highly infectious virus of the gut and causes vomiting and diarrhoea. It can quickly turn into a serious situation, particularly for young children.
Not long after they heard of cases spreading through the village, Junior's parents' fears were realised when their youngest child – and the only one who had yet to be vaccinated against the disease – contracted it.
He would spend a week in the hospital, fighting for his life.
"He nearly died," mum Butikong says.
The disease is all too familiar to locals. In the Pacific, about 1700 children under five years old die from a preventable disease every year- with 80 per cent dying before their first birthday.
Pneumonia and diarrhoea are leading killers of children under the age of 5 years old and there are high rates of life-threatening cervical cancer in Pasifika families.
A vaccine programme driven by the United Nations Children's Fund – better known as UNICEF – and Rotary is working hard to change those figures in the Pacific region, with the help of US$3.2 million donated by Rotary.
Its immunisation programme is set to protect between 80,000 to 100,000 children in nine Pacific Island countries from potentially deadly illnesses Rotarvirus, Pneumococcal disease and Human Papillomavirus.
The countries involved in the initiative are: Samoa, Tuvalu, Vanuatu, Tonga, Niue, Tokelau, the Cook Islands, Nauru and little Junior's home, Kiribati.
UNICEF Pacific health specialist, Dr Frances Katonivualiku, was among a team of health and aid workers who travelled to Kiribati last week to see how the vaccination effort was going.
"Having the team – particularly Rotary International and the bigger UNICEF team – come down and actually go and experience the visit with them; and see these children getting vaccinated and seeing how important a preventative activity like this can really affect the lives of children and their families.
"It has really brought emotions for me as a Pacific Islander."
Katonivualiku works closely with 14 Pacific Island countries and supports their respective ministries of health in the area of health and nutrition.
Her work also involves looking at the healthcare and nutritional needs of children in those specific countries and understanding that they are the most vulnerable. They look at ways to improve the situation in each country and to improve the rates of mortality.
Katonivualiku acknowledged the difficulties those living in Kiribati face and the poverty around them.
"When you get to Kiribati, you already can visually see so many challenges – infrastructure-wise and you can already see the vulnerabilities in the country.
"While we were there [last] week, they were experiencing drought. This just exacerbates the already existing vulnerabilities that they have, like access to safe and clean drinking water and access to proper nutrition.
"It just makes it even more difficult to plant anything, if they can."
Despite that, Katonivualiku said there were many beautiful things about the country – how content people are and the happy smiles on children's faces.
"That really just humbles me."
Members on the trip travelled to parts of North Tarawa and South Tarawa, meeting local families who had brought their children to vaccination centres to get their immunisations.
Rotary International president Jennifer Jones was also on the tour and said: "I have seen how critical preventative care is for newborns and children and where access to clean water and nutrition is limited, it is even more critical to protect children's already vulnerable health from illness."
Katonivualiku said the trip had also encouraged the need for health workers to be able to provide basic healthcare services such as immunisation and nutritional advice for children at primary level – and even if that meant travelling to the most remote atolls.
"Coming to the hospital means taking money out of their small earnings that they already have and so they've got to prioritise – do I spend money on going to the hospital or do I spend it to buy food for the whole family?
"They're already vulnerable. They already have many challenges," she said.
SOURCE: NZ HERALD/PACNEWS