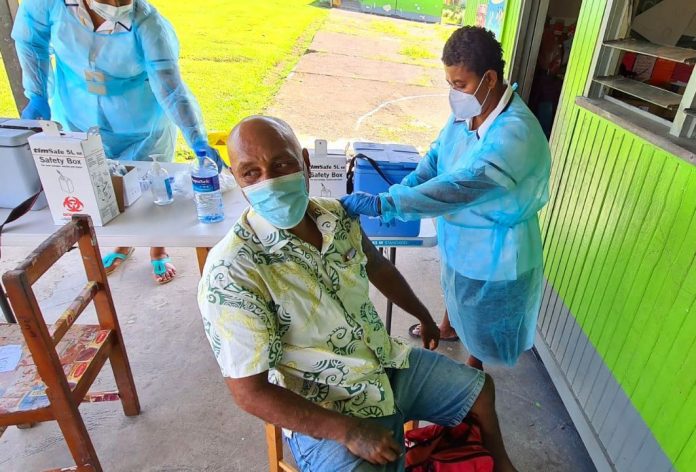 The Pacific Islands Forum Secretary-General Henry Puna says he has no concerns over how quickly national authorities across the Pacific are running their mass vaccination rollout schemes.
And he is heartened to see health officials in countries such as Fiji and Papua New Guinea move quickly to address the pandemic, as cases continue to increase in the region's two largest populated nations.
The former Cook Islands prime minister was asked during his first Meet the Press Talanoa Session last Wednesday if he had any concerns about the rollout of COVID-19 vaccines in the region.
Puna said he has been in touch with health officials in recent days and they acknowledged the need to move quickly.
"I have no concerns with, you know, the vaccination rollout," he said. "Especially in Fiji, where, you know, the infection is an alarming increase.
"But they are also moving very fast and the officials in Canberra are very pleased with the rollout and the speed of the rollout.
"So on that issue, now, we don't have any concerns."
Pacific nations that currently record nil coronavirus infections, and are on the verge of opening travel bubbles, were also mentioned by Puna during the talanoa.
"As such, it's just good to know that for some of our member states, there has been no infection, no COVID-19 recorded.
"And it's good to see that countries like the Cook Islands and Nauru have now reopened for business, open their bubble with New Zealand."
Puna said he thinks Niue will be opening up its borders soon, after the island's population are vaccinated, and he hopes other states would follow suit to give local businesses the opportunity to rebound.
In April Samoa received 24,000 doses of the Oxford-AstraZeneca COVID-19 vaccine and the nationwide vaccine rollout began soon after their arrival.
As of 25 June a total of 5117 people in Samoa have been fully vaccinated, which is 4.2 per cent of the eligible population vaccinated. Out of that total 2968 are males and 2149 females.
A total of 49,546 people in Samoa have already received the first dose of the vaccine, which translates to 40.6 per cent of the eligible population vaccinated. Out of that total 27,616 are males and 21,930 females.
SOURCE: SAMOA OBSERVER/PACNEWS