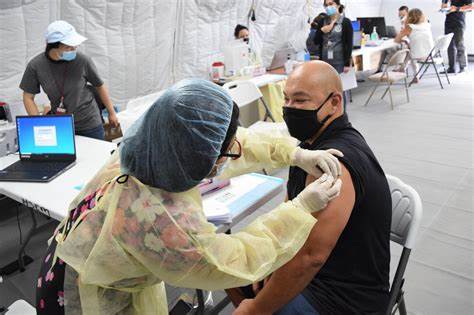 The Commonwealth Healthcare Corp. and the CNMI Covid-19 Task Force on Tuesday announced that 98 new positive Covid-19 cases had been identified during a single day of community screening — the largest recorded in CNMI history.
These new cases are in addition to the 10 new cases that CHCC reported on the evening of Monday, 22 November.
Pacific Island Health Officers Association regional communicable disease epidemiologist Stephanie Kern-Allely, MPH, said of these 98 new cases, 82 were identified through community-based Covid-19 testing or CBT utilised by a number of different employers, community groups, and general community members.
"Every single one of those CBT cases we identified has a linkage to another case," she added.
Of the 82 new cases identified through CBT, she said 63 were from a large congregated living situation, in addition to 28 other cases that were previously identified as part of the larger cluster.
There are 19 additional cases from these 98 new cases that have no linkages to known ongoing clusters, Kern-Allely added.
She said 14 of the new cases were identified through contact tracing as the contact tracing team continues to identify and test cases as well as quarantine contacts to further reduce the spread and break linkages in transmission.
"We still have zero severe cases identified of Covid-19, which is great news. It really is a testament to our high vaccination coverage which reduces the risk of severe disease, as well as the presence of our treatment options for Covid-19, our monoclonal antibodies, of which we have here on island…. We are actively assessing patients and cases for eligibility and administering those to continue to reduce the risk of severe disease and hospitalisation," Kern-Allely said.
"Our contract tracing is ongoing to identify additional contacts and quarantine those contacts today for these newly identified cases. Our contact tracing team works around-the-clock to identify cases."
Not all of the new cases are symptomatic, and there are currently no Covid-19-related hospitalisations, she said.
"I know Thanksgiving is coming up [and] we expect to see community gatherings, and meetings with our relatives, and sharing a Thanksgiving meal. We want to continue to remind the community that our best prevention and protection is vaccination," she added.
CHCC and the CNMI Covid-19 Task Force continue to encourage the unvaccinated to get vaccinated, and the fully vaccinated to get their booster shots if eligible.
"[It's] the best protection that we can offer," Kern-Allely said, referring to the Covid-19 vaccine and booster shots.
"Our immunity can wane over time, but that booster shot just bumps that right back up to a high efficacious vaccine…and help reduce the risk of severe disease and transmission," she added.
"Parents out there, we highly encourage you to get your kids vaccinated — it's a very safe and effective vaccine, so that we can protect our kids. It takes a little while for the vaccine to start working, so once you get the shot, it takes a little while for your body to develop that immunity to this disease," she said, adding that it takes up to two weeks for the vaccine to reach its highest efficacy.
For the Thanksgiving holiday, Kern-Allely recommends small and outdoor gatherings.
"We know that this virus does not transmit as well outside… so, maybe consider an outdoor Thanksgiving celebration…so that we can celebrate together and celebrate in a safe way," she added.
CHCC CEO Esther L. Muna said the new numbers are "huge," adding that it is a concern especially for those who live or work in a "congregated area."
"You are basically at risk," she said. "Wearing a mask can… reduce the risk of infection by…70%."
She added, "The message that we're trying to convey today is that Covid-19 is definitely here. We have these cases that we're trying to contain and that will be our goal moving forward…. We want to have more immunity for our target population. We want to be able to see a workplace where there are more people vaccinated, so that people can continue their work and not have these distractions of closing down establishments because someone has been detected as positive."
Muna thanked the administration, the CNMI Covid-19 Task Force, the governor's authorised representative for the Covid-19 disaster as well as federal partners, namely the U.S. Department of Health and Human Services and the U.S. Federal Emergency Management Agency, for all their work and support in trying to identify, isolate, and help treat Covid-19 cases.
Vaccination sites will remain open for the remainder this week, except on Thursday, or Thanksgiving.
Muna said CHCC and the CNMI Covid-19 Task Force will bring the vaccines to the community, and testing will also be expanded.
CNMI Covid-19 Task Force Chairman Warren F. Villagomez said personal protective equipment is being distributed to work areas.
Patrick Guerrero, the governor's authorized representative or GAR, said CNMI still has a steady supply of PPE.
The task force is also in close contact with the Rota and Tinian mayors as they prepare mitigation measures on both islands in the event of an infection, Villagomez said.
"With that said, we have enough isolation and quarantine rooms as we continue working along with…our GAR to make sure that we have all the available amenities, as well as infrastructure, to continue to protect our islands," Villagomez added.
Guerrero said Kanoa Resort and the former Mariana Resort are currently being used as isolation and quarantine sites. Should more sites be needed, they will be selected based on the number of rooms required, he added.
According to CHCC public information officer Guillermo C. Lifoifoi, "If you have symptoms of Covid, we urge you to call our Tele-Triage line at (670) 233-2067, or get checked by your primary health care provider. If you are identified as a high-risk contact, our contact tracers will call you."
Community members are encouraged to continue to practice the 3 W's: wear a mask, wash your hands, and watch your distance.
CHCC will provide more detailed information once it has concluded its investigation into the newly reported cases.
SOURCE: MARIANAS VARIETY/PACNEWS