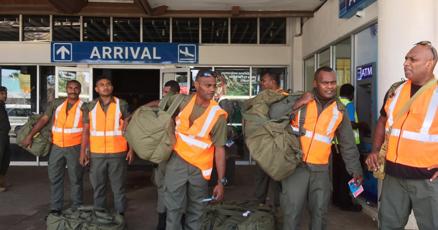 The Fiji Government's second joint Humanitarian Response team deployed to assist in recovery efforts in Vanuatu following the aftermath of Tropical Cyclones Kevin and Judy departed Fiji Tuesday.
The team which comprised of the Commissioner Eastern Division, Vitale Varo, and 30 personnel from the Republic of Fiji Military Forces (RFMF) will complement the first team that arrived in Vanuatu last week.
In his remarks during the farewell for the 31-member team, Minister for Rural and Maritime Development and Disaster Management Sakiasi Ditoka commended them for answering to this national call of duty, and wished them well for the task ahead.
"Within our region, we must be ready to be the first and foremost to offer support to any affected neighbour state. As a close Melanesian neighbour, we must be able to rely on each other and be able to lend support expeditiously," Ditoka said.
In March 2015, the Fiji Government sent a mission across to Vanuatu, made up of a medical and logistics team to assist in their response to TC Pam.
A year later in 2016, the Government of Vanuatu was one of the many countries that came forward to assist Fiji in the immediate aftermath of Severe Tropical Cyclone Winston in 2016.
"Your deployment today provides an opportunity for the Fiji Government to also reciprocate the kind gesture and support rendered to Fiji by our neighbours in Vanuatu in the aftermath of Severe Tropical Cyclone Winston in 2016. Vanuatu's acceptance of our assistance also demonstrates our strength in Humanitarian Assistance Disaster Relief (HADR)," Ditoka reminded the 31 personnel.
Minister Ditoka also urged the Fiji team to do well and uphold the values and responsibilities they have been entrusted with.
"I would like to remind you all that your deployment today has the full support of the Prime Minister, the Government, the nation, and your individual families. As Minister responsible for disaster management, I take this time to sincerely acknowledge each one of your families for their sacrifice and support, allowing you all to be part of this important regional deployment. Go with our blessings and remember our noble banner blue."
In addition to the deployment of two joint Humanitarian Response teams, the Fiji Government is expected to be also sending across food ration supplies and another health team to provide surge support to the health service in Vanuatu.
SOURCE: FIJI GOVT/PACNEWS