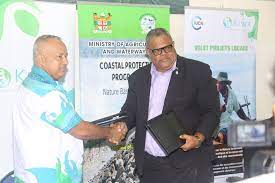 The Nature-based Solution (NbS) grant funding of EUR326,077 (FJD$700,000) signed Monday in Suva will go towards the rehabilitation of six project sites in Fiji.
"This award will assist the Government of Fiji in increasing the resilience of vulnerable coastal communities to climate change by constructing nature-friendly climate adaptation structures… Today, we're joining forces with IUCN and the Kiwa Initiative to take environmental rehabilitation a step further by committing to restore damaged coastal regions using natural-based sea walls, including mangroves and vetiver", highlighted Vatimi Rayalu, Fiji's Minister of Agriculture and Waterways.
Coastal flooding, riverbank erosion, and sedimentation are some of the pressing climate change impacts faced by Fiji. Through this Kiwa Initiative grant, the Ministry of Waterways will seek to deliver impact at scale by addressing key underlying drivers of climate change and coastal erosion.
It assists in further strengthening the issues of coastal erosion through mangrove loss due to anthropogenic causes and induced climate alterations while supporting the implementation of the Kiwa initiative innovative approaches that align with NbS and climate adaptation.
The six project sites in Fiji include Nakawaqa Village, Vesi Village, Ligaulevu Village, Somosomo Village, Navola Village and Navolau No. 1 Village. The project design includes NbS seawalls that are made of four natural components (mangrove hedges, boulders, soap stone and clay soil, and vetiver grass). Through these NbS seawalls, the project hopes to reduce the vulnerability of the nearby communities to coastal inundation and erosion. The project will help protect a total coastline of 1,565 metres and assist over 1,400 individuals.
Administering the Kiwa Initiative local projects component, IUCN stands ready to support the Ministry of Waterways with providing advice and guidance through the IUCN Global Standard for NbS.
IUCN congratulates the Fiji Government's innovative approach to addressing the impacts of climate change to our coastal communities in designing a hybrid seawall that integrates nature-based solutions and local materials which is cost-effective and strengthens community participation and ownership", shared Mason Smith, Regional Director of IUCN Oceania.
The Kiwa Initiative is funded by the European Union, Agence française de développement (AFD), Global Affairs Canada (GAC), Australia's Department of Foreign Affairs and Trade (DFAT) and New Zealand's Ministry of Foreign Affairs and Trade (MFAT).
SOURCE: IUCN/PACNEWS