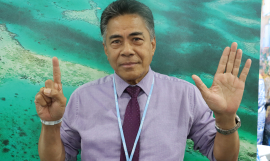 Samoa will assume the Chairmanship role of the Alliance of Small Island States (AOSIS) from 1 January 2023 for a period of two years.
Samoa's Permanent Representative to the United Nations (UN), Fatumanava-o-Upolu III Dr Pa'olelei Luteru, will take over the role from the incumbent chair and Antigua and Barbuda's Permanent Representative to the UN, Dr Walton Webson.
For the Pacific Small Island Developing States (PSIDS) group, Palau will assume the Chairmanship role, and follow Samoa into the AOSIS Chairmanship position at the conclusion of Samoa's two-year tenure.
In Sharm El-Sheikh, Egypt, where more than 55,000 people have congregated for the 27th United Nations Framework Convention on Climate Change Conference of the Parties (UNFCCC COP), Ambassador Fatumanava and his team have been active, already laying the ground work for the task ahead.
"Samoa is very grateful, I think there is a lot of hard work ahead of us, we recognise this and we have no illusions that it's going to be a lot of work but what's important is that we work as a team," His Ambassador Fatumanava said. "It's important to engage, you have to be counted, and of course Samoa is keen to do what it can. We are grateful to our Pacific family that they had chosen Samoa and Palau to lead in this area."
In the context of climate change, and the Pacific's overall advocacy for urgent action and elevated ambition to address the issue, Ambassador Fatumanava said the AOSIS Chairmanship is an opportunity for the Pacific to take a leadership role in some areas that perhaps had not been given the focus it deserved in the past.
"Within the mission of AOSIS, we had focused on two broad pillars, one is climate change and the other is sustainable development. Ocean was within the climate change pillar and during our tenure, we will propose that the third pillar in the work of AOSIS should be oceans."
This week since he arrived in Sharm El Sheikh, Ambassador Fatumanava has had a busy schedule of meetings, including PSIDS coordination gatherings at the Pacific Delegation Office, as well as the AOSIS coordination meetings. His engagement, he said, is part of familiarising with the role so that the transition in January is smooth and efficient.
"What is extremely important is our role to try and advocate and influence issues at the global level so that work will continue," he said. He was pleased to note that they have already secured a USD 900,000 a year deal with Italy for a fellowship to develop the capacity of Pacific officials and negotiators.
"We've been very fortunate to get the support of Italy for this fellowship where we will select fellows from each of our SIDS countries, ten of them every year, and they come to New York and through that we hope to create and develop this capacity, in terms of the work, whether it's climate change or related areas so that when negotiations like COP come around, they will be able to help our member states."
The next steps for the Small Island Developing States Accelerated Modalities of Action, commonly referred to as the SAMOA Pathway, are not far from the Ambassador's mind.
"The SAMOA Pathway comes to an end in 2024 so from next year we now also have to prepare for the 4th SIDS conference which will be held in the Caribbean. Antigua and Barbuda have put up their hand and we need to formalise that but the work in preparations includes regional consultation meetings within the three main groups within the AOSIS, and that will also take our time, not only to secure their views but also to put it through the UN process."
Within the first six months of Samoa's chairmanship, Ambassador Fatumanava said they hope to convene a leaders' meeting on the issue of Multi-dimensional Vulnerability Index (MVI), an area the United Nations and SIDS have been working to negotiate and implement. Ambassador Fatumanava is on the High Level Panel of experts and he said they are looking to submit their final reports to member states and international financial institutions by April next year, before a resolution will go before the UN General Assembly for approval.
"The MVI is extremely important for SIDS," he said. "One of our greatest challenges at the moment is that we are not at the same level of access as our developed partners so being able to access concessional financing is extremely important.
"Secondly, there is the issue of debt. We're going to find ourselves in a situation where we have to make choices between our SDGs obligations, or meeting our debt obligations, so it's a very difficult situation. I'm hoping this MVI will also lead us to the establishment of a sustainable debt regime, I think this is extremely important for us.
"The third potential use of the MVI is to help our donors and partners in terms of their allocation because at the moment it is in favour of the GMI/GDP but it doesn't take on board vulnerabilities and all these other issues and so I'm hoping that it will have an impact.
"The final potential use is to help us with our own national developments because now you're going to have indicators which will help you in different areas, where you will know this is the situation and we'll quickly learn that we need to do better here, move more focus on this area and so forth. So having more data available will, I hope, strengthen and assist the planning process in the national level."
Ambassador Fatumanava is quietly excited about the journey ahead with AOSIS.
"The challenge for us obviously will be the staff because if you look at the portfolio, there is a huge area to cover especially when COP comes around. But it's not just the climate change COP, we also have the Biodiversity Convention. There is a meeting in Montreal, Canada next month, and then of course the issue of plastics where another meeting will convene in Uruguay in the next couple of weeks. So these are all ocean related issues."
Since 1990, AOSIS has represented the interests of the 39 small island and low-lying coastal developing states in international climate change, sustainable development negotiations and processes. As a voice for the vulnerable, its mandate is more than amplifying marginalised voices as it also advocates for these countries' interests. In terms of size, AOSIS closely resembles the countries it represents on the global stage, but often punches far above its weight, negotiating historic global commitments to cut greenhouse gas emissions, among other achievements.
"The vision of AOSIS is very much supported by its members and it is really up to the members," Ambassador Fatumanava said. "As chair we will have some influence in terms of the agenda, but that influence has to be gauged on solid evidence in that you have to argue and you have to provide the solid basis upon which your proposals in terms of areas of focus, will be granted."
The 27th Conference of the Parties to the UN Framework Convention on Climate Change (UNFCCC COP27) is being held in Sharm el-Sheikh, Egypt from 6 to 18 November 2022.
It is being attended by Pacific leaders and their delegations, who are advocating for their survival.
SOURCE:SPREP/PACNEWS