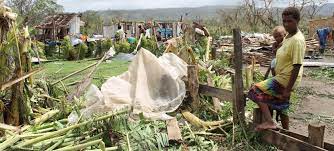 As the floodwaters recede in cyclone-ravaged Vanuatu, officials are assessing the medium- and longer-term requirements, including food security, health needs and improving disaster preparedness.
Residents have been urged to take steps to prevent illness from unsafe food in the aftermath of tropical cyclones Judy and Kevin – category 4 storms – which hit Vanuatu last Wednesday and Friday last week.
The wild weather caused widespread damage to homes, buildings, food gardens, infrastructure, power and water supplies, and telecommunications.
Pacific civil society groups and NGOs are calling on the Vanuatu government to ensure food security and health are prioritised amid the massive clean-up.
Located to the north of New Zealand, Vanuatu is made up of some 83 islands and is home to about 330,000 people.
Vanuatu Prime Minister Alatoi Ishmael Kalsakau said 80% of the population had been impacted by the back-to-back cyclones.
Kalsakau is expected to announce a multimillion-dollar package to help tens of thousands of people affected by the storms.
Relief support teams from New Zealand, Australia and France are in the capital, Port Vila, to hand out humanitarian supplies and assist Vanuatu officials on the ground.
International Organisation for Migration (IOM) in Vanuatu is also supporting the National Disaster Management Office response efforts.
CARE Vanuatu is part of the emergency response and said they are focused on food and water supply in the evacuation centres and remote southern islands.
"We are working with the National Disaster Management Office (VNDMO) and its partners to assist officials at evacuation centres across Efate – to assess and identify their urgent needs for families forced to flee their homes during the cyclones," a spokesperson told Stuff.
"More frequent climate disasters, rising sea levels, the economic fallout of Covid-19 lockdowns, border closures, supply chain constraints, and the global impact of the war in Ukraine have aggravated the challenge of maintaining sustainable and resilient food systems for Pacific Island countries (PICs)."
Vanuatu IOM partners include the Displacement and Evacuation Centre, Christian Council, Save the Children, Red Cross, ADRA, CARE, Act for Peace and World Vision.
The World Health Organisation is urging governments to ensure people living in affected communities to throw away "perishable food" that has not been refrigerated or frozen properly due to power outages.
A WHO Pacific spokesperson said food systems in the Pacific were important due to their impact on people's health and wellbeing, local livelihoods and national economies.
"Between 50 percent and 70 percent of Pacific people depend on agriculture and fishing activities for their livelihoods. With food gardens destroyed, supply will be short in crops, fruits and vegetables.
"Food that may have come in contact with floodwater or stormwater should also be thrown away, including food with an unusual odour, colour or texture.
"After a disaster such as a storm, unsafe food can make you sick, even if it looks and smells normal."
Unicef is also concerned about the plight of children in the aftermath of both cyclones Judy and Kevin.
The UN agency's Pacific head Jonathan Veitch said the situation of an estimated 58,000 children in Vanuatu remained "extremely precarious".
"Children in the worst-affected provinces of Tafea and Shefa in particular, need urgent help, as many have lost their homes, schools, neighbourhoods and all things familiar in their lives," he said.
"We know that schools, hospitals and health centres have been damaged throughout the country and based on our initial assessment with partners, the immediate needs include water and sanitation, health services, non-food items and emergency shelter."
Veitch said Unicef and Vanuatu Red Cross had delivered humanitarian supplies to 450 people at the evacuation centre in Wan Smolbag, Shefa.
"Over the coming days, 1000 families will receive emergency supplies including dignity kits, buckets and tarpaulins."
New Zealand's initial package of assistance to cyclone-ravaged Vanuatu includes a financial contribution of $150,000 (US$67,000) and humanitarian supplies, the Government said.
Foreign Affairs Minister Nanaia Mahuta said the funding would allow the New Zealand High Commission in Port Vila, which is leading the international relief effort with Australia and France – to respond "rapidly" to requests from the Vanuatu government.
New Zealand gave $10 million (US$4.4 million) to Vanuatu in November 2022 to complete its construction of three climate-resilient wharves.
In March 2015, Port Vila was severely damaged by tropical cyclone Pam – a category 5 storm – that killed dozens and left thousands displaced.
In January, Tropical Cyclone Irene wreaked havoc on Vanuatu, causing widespread flooding, power cuts and road closures.
In April 2020 and already in a state of emergency to stop Covid-19 from entering Vanuatu, Tropical Cyclone Harold, a category 5 storm, hit the Pacific nation leaving more than 25 people dead and tens of thousands homeless.
SOURCE: STUFF NZ/PACNEWS